File Jockey for HCL Connections
Connect top mobile business apps like Docs@Work, Goodreader, Notability and many more to the files stored in HCL Connections.
Feature list
Download, modify and upload HCL Connections files directly to iPad, iPhone and Android by using mobile Apps which support WebDAV.
Read and write access to My Files, My Folders and Community Files and Folders.
Versioning and trash bin in IBM Connections are supported.
How it works
File Jockey supports top mobile business apps with WebDAV capabilities on mobile devices on Apple iOS and Android devices.
File Jockey is a server-based java program that runs on Java servers like HCL WebSphere, JBoss or Tomcat.
File Jockey supports read and write operations from the mobile device or the Windows PC to HCL Connections.
File Jockey User Manuals
Lets explain how to setup various apps and programs to interact with the files in IBM Connections via Lialis File Jockey by using the app Goodreader as an example. All other apps work in the same manner as we demonstrate with Goodreader.
iPhone – Goodreader
On your iPad, open (or install first) the Goodreader app and press the + button on the right, choose Other Cloud Options and then WebDAV server.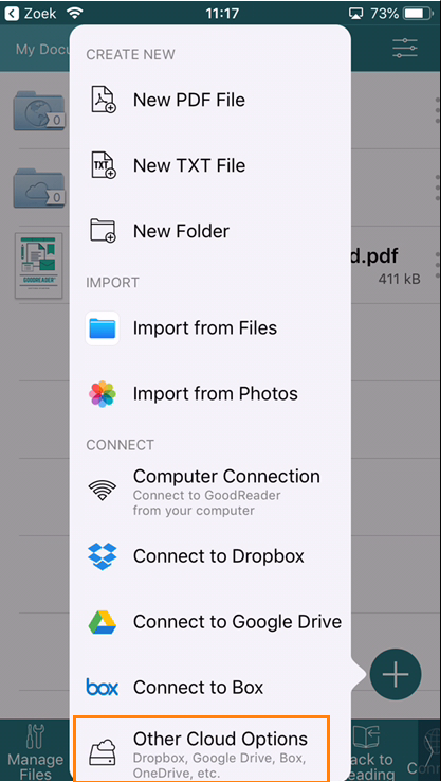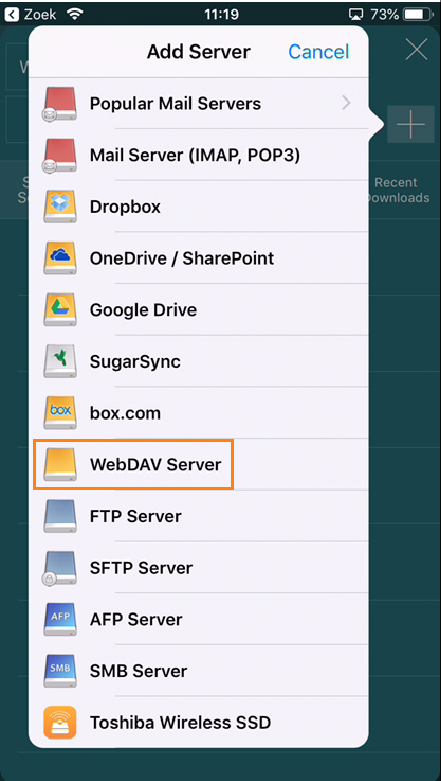 Fill in the File Jockey for HCL Connections URL and the credentials. Your Goodreader will show the new server connection Lialis to IBM Connections.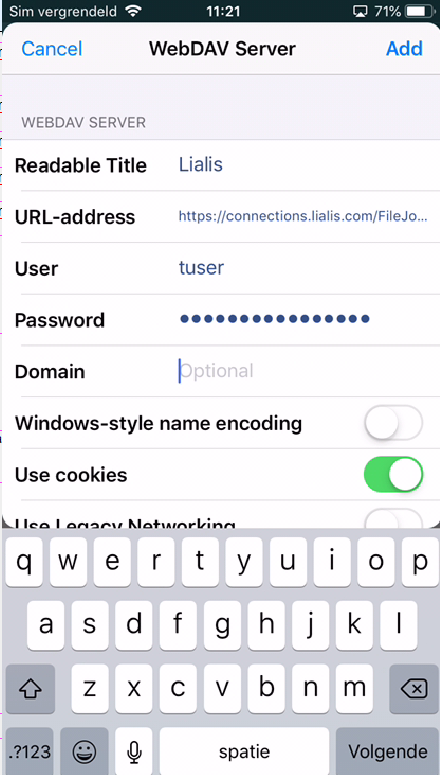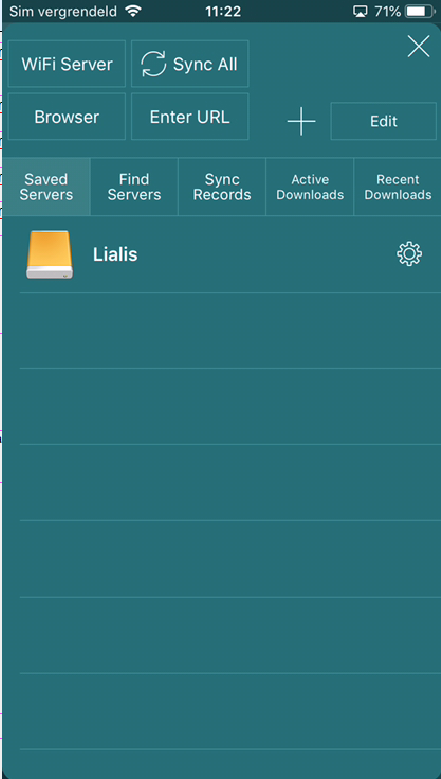 When you press the connection the Goodreader will show all the files and folders listed in your IBM Connectio9ns environment.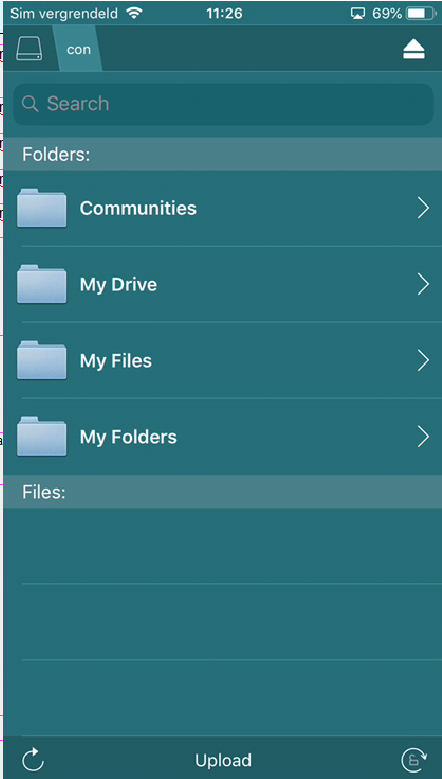 In this example we will select the Lialis community in order to sync all Lialis Community's files to the iPhone for offline usage.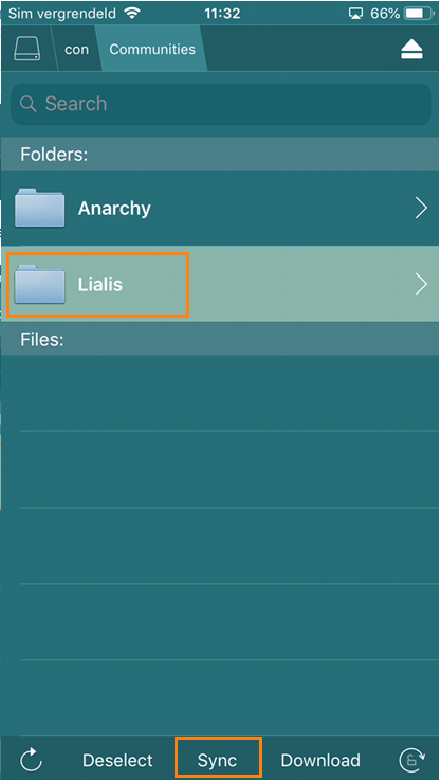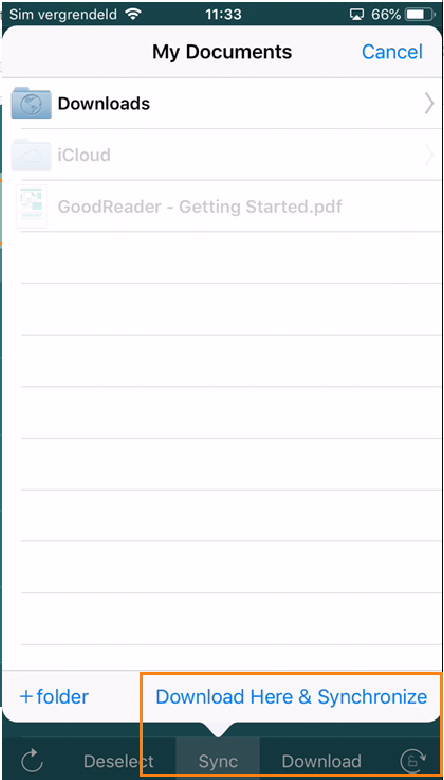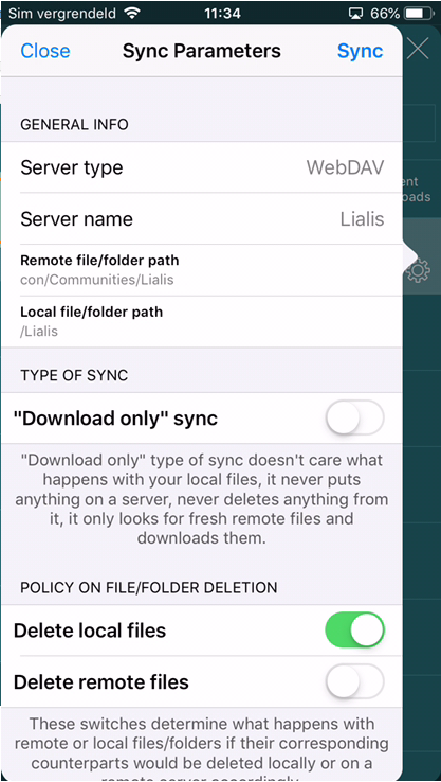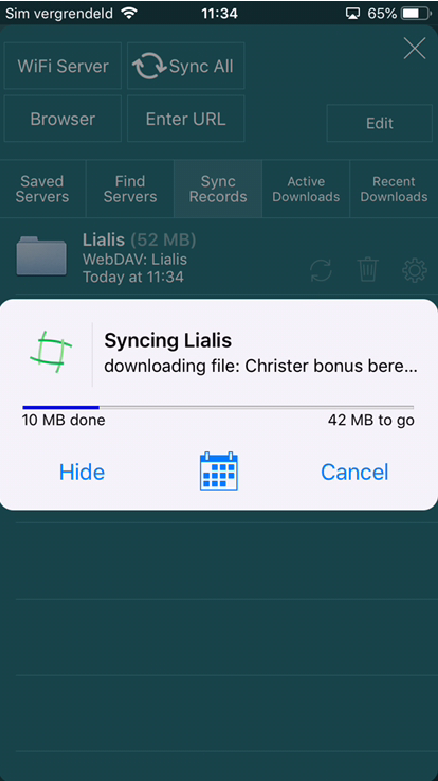 When the Goodreader completes the sync you will see the Remote sync option to the Lialis community in Connections.
Every time you push the sync option Goodreader will download or upload new documents from and to HCL Connections. Isn't this great?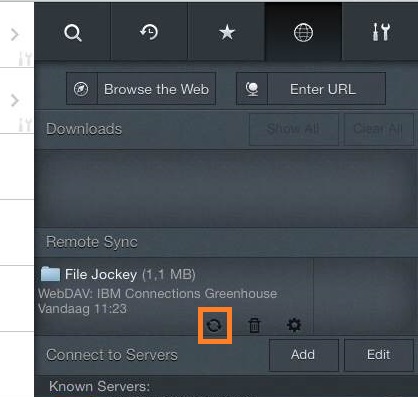 You may add more sync's to the Goodreader, for example sync the My Files or a particular file in a community.
All other apps work in the same manner as we explained for Goodreader and Docs@Work.
Pricing File Jockey on premises
When you purchase a license for File Jockey on premises, you are purchasing a perpetual license.
The software will work forever for the purchased amount of users,
You are free to remove and add users of your choice,
You are allowed to use an unlimited amount of HCL Connections repositories,
All licenses have the first year of support and maintenance automatically included in the price. Second year support and maintenance can be purchased at a rate of 25% of the price for the number of users initial paid.
Note that this is NOT a hosted solution – you still run the software on your server.
| | |
| --- | --- |
| Number of users | Price in USD |
| 1 | free |
| 10 | 500 |
| 25 | 999 |
| 50 | 1.611 |
| 75 | 1.855 |
| 100 | 1.900 |
| 200 | 2.956 |
| 300 | 3.690 |
| 400 | 4.261 |
| 500 | 4.669 |
| 1.000 | 7.523 |
| 1.500 | 10.000 |
| 2.000 | 13.232 |
| 3.000 | 18.125 |
| 4.000 | 20.800 |
| 5.000 | 25.000 |
High user level pricing and unlimited enterprise licenses are also available.
File Jockey installation guide on HCL WebSphere
Guide

version

13

dated

13

March

2021

-

Author

<

a

href

=

"mailto:marten.vosmer@lialis.com"

>

marten

.

vosmer

@

lialis

.

com

<

/

a

>
Installation guide to install File Jockey on HCL WebSphere for HCL Connections.

File Jockey v 2 supports HCL Connections version 5, 6 and 7 and IBM/HCL WebSphere 8.5 and higher.
File Jockey supports all operating systems where HCL WebSphere can be installed on.
File Jockey may also be installed on Apache Tomcat server (not documented yet). Installing File Jockey on JBoss / WildFly is not supported and will give problems.
If you have problems or questions please email us on support@lialis.com.
Installation approach
In this guide we will install File Jockey on a single WebSphere Application Server. File Jockey may also be installed on a clustered WAS setup only if the nodes are located of different servers from (virtual) hardware point of view. If you install File Jockey on a WAS cluster you need to carry out some manual xml file tweaking because of a limitation in the File Jockey administration interface.
Creating and configuring a dedicated WebSphere application server for File Jockey
Register a new WebSphere application server.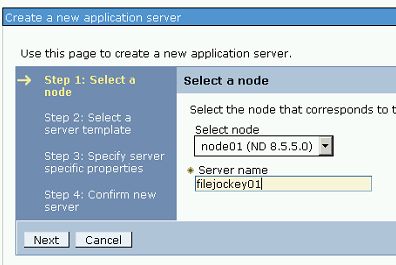 Choose default template, generate unique ports, choose confirm and save to create the new server.
Navigate to the Web servers (IHS), select the IHS server and choose Generate Plug-in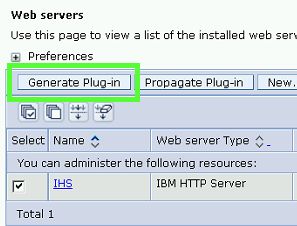 Then choose Propagate Plug-in. This will tell the IHS server there is a new WebSphere application server it has to serve.
Final step is to reboot the IHS server.
Installing File Jockey on single WebSphere application server located on one node.
In this installation guide File Jockey v2 will be installed on a single WebSphere application server.

HCL Connections runs on a different server.
Installation steps
Deploy the File Jockey WAR file.
Go to the 'Enterprise applications' section and press the 'Install' button: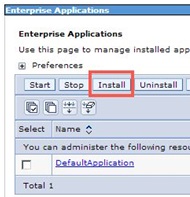 Select the WAR file: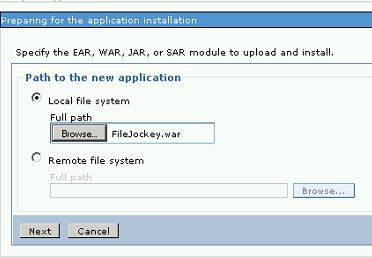 Press 'Next'.
You can install the application via the Fast Path method.
Map the filejockey01 server and the IHS server to the File Jockey application.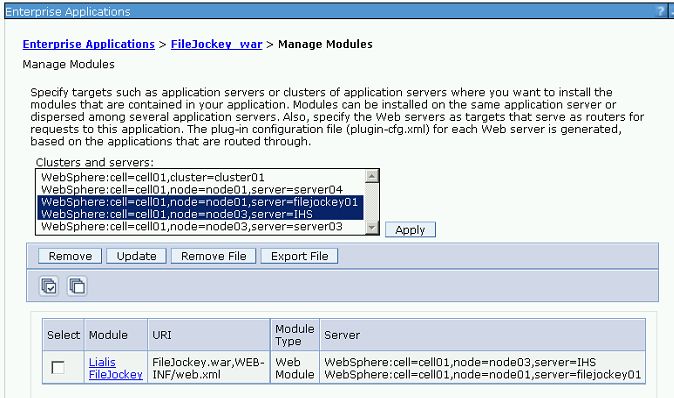 Default settings at step 3 Map Virtual Hosts
The context root should be /FileJockey (case sensitive)
Make sure the application is installed successfully and save directly to the master configuration.
File Jockey Security
I assume you have configured LDAP within HCL WebSphere and application security has been enabled in the Global Security.
Next step is to configure the File Jockey Security rights. Press the 'FileJockey_war' link, then the link 'Security role to user/group mappings'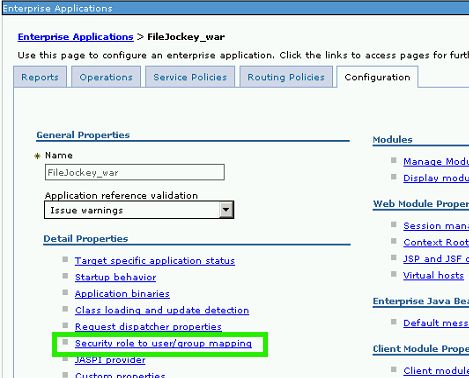 In this example everybody will be authorized to use File Jockey, but feel free to assign groups or users instead.
And the File Jockey admin page will be authorized for two Admins only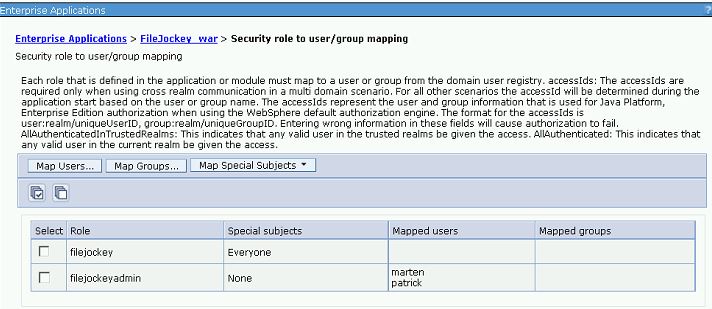 Change the class loader as illustrated below (choose the right class loader!)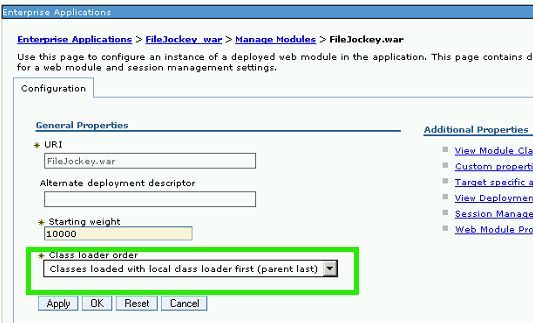 Now you should be able to start the File Jockey application on WebSphere as illustrated below (if you did not forget to start the WAS).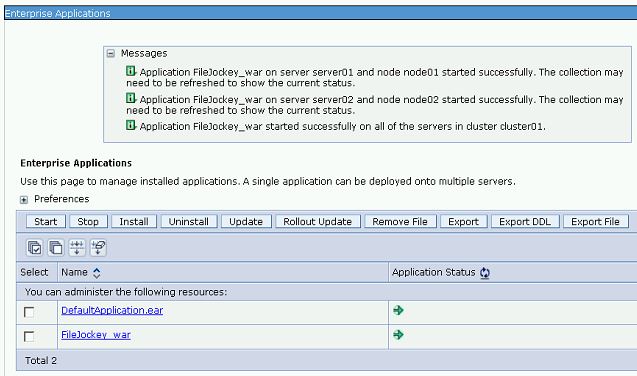 Configure File Jockey

You can access the File Jockey administration page using the URL http(s)://servername/FileJockey/admin/main.jsp (case sensitive) and you should see below screen. Tip, use another browser to access this administration page so you avoid credential problems because you may have already opened the WAS admin console with different credentials which will be passed by the browser to the File Jockey administration page.

Please press the Open Configuration button.
For a minimal setup you must enter the following settings.
License key (you will have received this key form Lialis). This key is based on the servers computer name
HTTP Cache folder, here File Jockey will store its cache
HTTP Threads
HTTP Cache time
Log path
For example: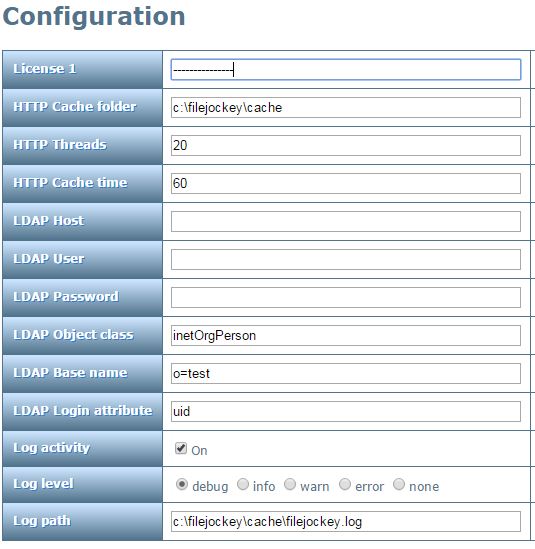 When all is set save the Configuration and reboot the File Jockey was application.
Please press the Open Repository button.
You will find a few example repositories, feel free to remove them. Make sure there is one repository linking to your HCL Connections environment. Advice, keep the name sort because it will be used in the URL accessing File Jockey. When set save the Repositories and reboot the File Jockey was application.

Please press the button Show Log and check the File Jockey log for errors (if the File Jockey log is empty it did not start properly and you should check the SystemOut.log for errors. Below the SystemOut.log how it should look like when there are no error's.
[fusion_builder_container hundred_percent="yes" overflow="visible"][fusion_builder_row][fusion_builder_column type="1_1″ background_position="left top" background_color="" border_size="" border_color="" border_style="solid" spacing="yes" background_image="" background_repeat="no-repeat" padding="" margin_top="0px" margin_bottom="0px" class="" id="" animation_type="" animation_speed="0.3″ animation_direction="left" hide_on_mobile="no" center_content="no" min_height="none"][9/22/15 18:39:14:942 UTC] 00000080 SystemOut O Initializing FileJockey version: 2.0.0
[9/22/15 18:39:14:942 UTC] 00000080 SystemOut O Reading configuration
[9/22/15 18:39:14:942 UTC] 00000080 SystemOut O Using configuration file
[9/22/15 18:39:14:957 UTC] 00000080 SystemOut O Loading configuration
[9/22/15 18:39:14:988 UTC] 00000080 SystemOut O Loggers initialized to level: debug
[9/22/15 18:39:14:988 UTC] 00000080 SystemOut O Starting file userlogging.
[9/22/15 18:39:15:113 UTC] 00000080 SystemOut O FileJockey started
[9/22/15 18:39:15:113 UTC] 00000080 ServletWrappe I com.ibm.ws.webcontainer.servlet.ServletWrapper init SRVE0242I: [FileJockey_war] [/FileJockey] [FileJockeyServlet]: Initialization successful.
[9/22/15 18:39:15:113 UTC] 00000080 webcontainer I com.ibm.ws.webcontainer.VirtualHostImpl addWebApplication SRVE0250I: Web Module Lialis FileJockey has been bound to default_host[*:9080,*:80,*:9443,*:5060,*:5061,*:443,10.146.163.173:9080,10.146.163.173:80,10.146.163.173:9443,10.146.163.173:5060,10.146.163.173:5061,10.146.163.173:443,*:9081,*:9082].
[9/22/15 18:39:15:144 UTC] 00000080 ApplicationMg A WSVR0221I: Application started: FileJockey_war
The File Jockey configuration files displayed in the File Jockey Administration page are stored in the Users folder, for example C:\Users\Administrator\.FileJockey
WAS Cluster
If you have installed File Jockey on a WAS cluster you will notice that on one of the WAS servers the File Jockey app will complain about an invalid license key. You have to make sure each server is equipped with the right File Jockey license key which is based on the computer name. The best approach is to manual copy below 3 xml files from the WAS server without the license error to the WAS server with the license error. The edit the configuration.xml and add the correct license key you have received from Lialis.
File Jockey URL for WebDAV clients

The URL to access the files stored in HCL Connections is http(s)://serverhostname/FileJockey/root/
This URL can be used on mobile devices, Mac and Windows computers, Please note that Windows 7 computers might need some more attention with regards to Windows patches and security settings.
Changing the File Jockey URL

To change the File Jockey path first you need to open the FileJockey.war file with a zip program. And edit the web.xml file that's located in the WEB-INF folder.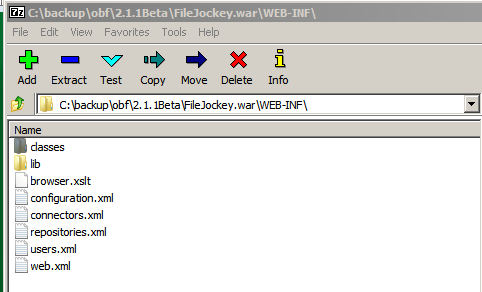 The web.xml file contains 2 xml sections that need to be updated. There is the servlet-mapping section with url-pattern tag. By default it will be set to /root/*. This part tells the server what URLs are linked to the File Jockey servlet classes. Changing this to /rt/* will change the File Jockey URL to: http(s)://serverhostname/FileJockey/rt/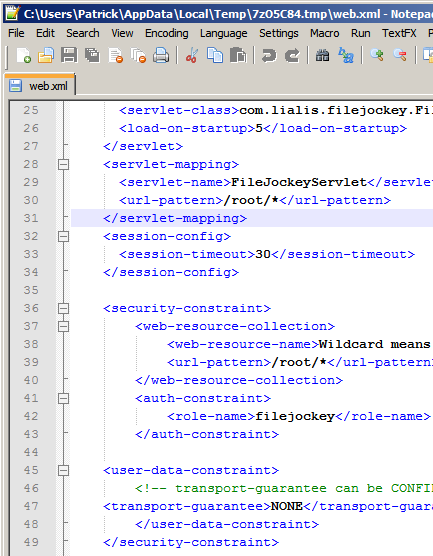 There's also the security-constraint section with the same url-pattern tag. The value in this tag must be set to the same value as the url-pattern tag in the servlet-mapping section. This section determines the role users need to have before they can make use of File Jockey. If it is not set correctly everybody will have access to File Jockey.
When you're done, don't forget to update the web.xml file in the FileJockey.war file.
Next we'll change the /FileJockey/ part of the URL, which is quite simple. During installation of the FileJockey.war file you're asked to map the context root for the web modules. As described above, this should normally be set to /FileJockey. But you're free to set it to anything you like. For example setting this to /fj will result in a File Jockey URL like this: http(s)://serverhostname/fj/rt/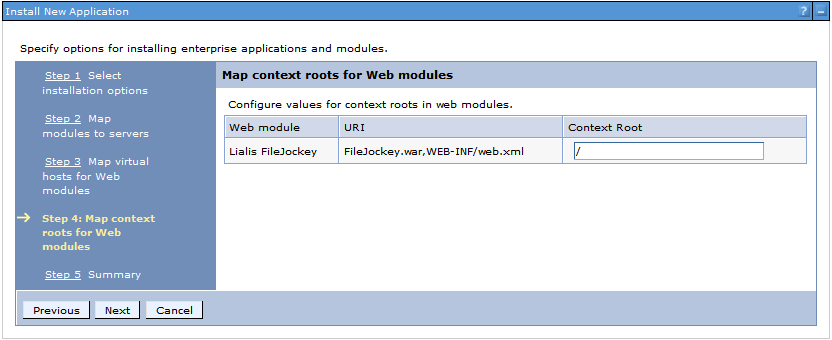 Self signed certificates
When your Connections server uses self signed certificates FileJockey will be unable to reach the Connections API the following chapter will explain how to fix the problem.
Adding a self-signed ssl certificate to the Java truststore
After installing you may find that FileJockey still fails to connect to the Connections API and the following error appears in the FileJockey log: "PKIX path building failed: java.security.cert.CertPathBuilderException: unable to find valid certification path to requested target". This happens because FileJockey in unable to recognize the ssl certificate of the Connections server, this can happen when the server uses a self-signed certificate or the signer of the certificate is unknown by the Java virtual machine. To make it work the certificate should be added to the Java truststore using the procedure below.
The first step is to get a copy of the certificate public key, the easiest way to get access is to open the connections website in Firefox.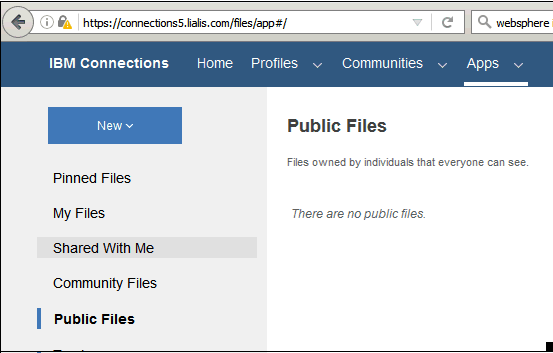 Next click the lock icon in the address bar, a popup will appear with the site address with an > to the right. Click the > and then the "More Information" button at the bottom. In the following Dialog select the Security tab and click the "View Certificate" button.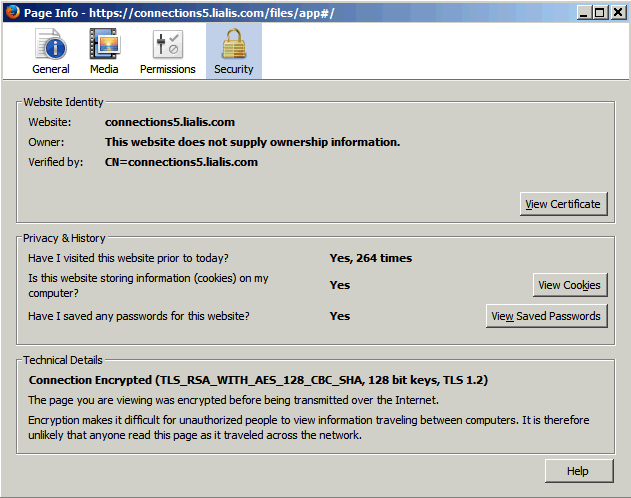 In the next Dialog go to the Details tab and click the export button. Export the public key of the certificate to disk.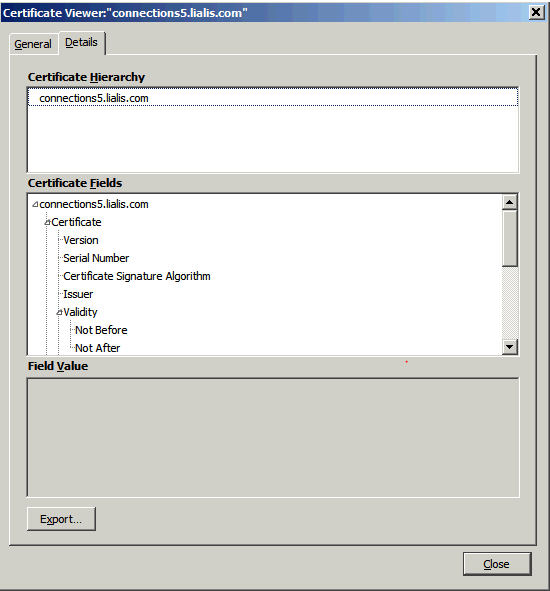 Copy the exported .pem file to your WebSphere server to be imported in the truststore.
Open a Command Prompt on the WebSphere server and navigate to the jvm installation in the WebSphere installation directory. You need to go into the lib\security folders within this folder.
%WEBSPHERE_ROOT%\AppServer\java\jre\lib\security
Use the following command to add the certificate to the trust store:
././bin/keytool -importcert -keystore cacerts -storetype jks -file <path to your .pem datafile> -alias <any unique name>
You'll be asked for a store password. The default password for the store is "changeit"
The application server needs to be restarted after the procedure for the jvm to pick up the certificate from the truststore.
If you have questions, don't hesitate to contact me!