SharePoint business application development with Shareflex
Introduction
During the Notes application decommissioning projects we carry out for our clients we often come across the need to replace more complex Notes applications with another "working" solution on a different platform than Domino. By working application we effectively mean that users need to have the possibility to create new content. Most of our clients make a strategic decision to move to the Microsoft cloud (Azure/Office365) and as a result would like to replace Notes applications with SharePoint (Online) applications.
However, SharePoint, especially compared to Notes, offers limited out-of-the box functionality. As a consequence we have been searching for solutions that could cater the replacement need of Notes users and make the transition more seamless. In our search we came across the Shareflex Business Application Platform from Portal Systems that allows building complex SharePoint business applications and eliminates custom coding projects on SharePoint which are a nightmare.
This blogpost provides some examples of the SharePoint applications we have built for our clients using Shareflex and explains why Shareflex is a solid alternative for Notes-like business applications.
Apart from this blog we have also created a demo Shareflex environment where you can try out some of the SharePoint applications we have built. Please send an email to sales@lialis.com if you would like to have access to this environment.
Shareflex functions
1) Rich Text
An important reason for us to prefer Shareflex to other solutions is that, as far as we know, it is the only platform that can provide the typical Notes rich text features in SharePoint. Notes rich text combines; text, attachments (files), images and rich text in one field. In below image you can see how Notes rich text functions work in Shareflex.
Example 1: On the first tab 'Audit' you see on the left top corner some meta fields like subject category. On the bottom left corner you find the files which can be viewed and edited on the same page (Word editor displayed on the right).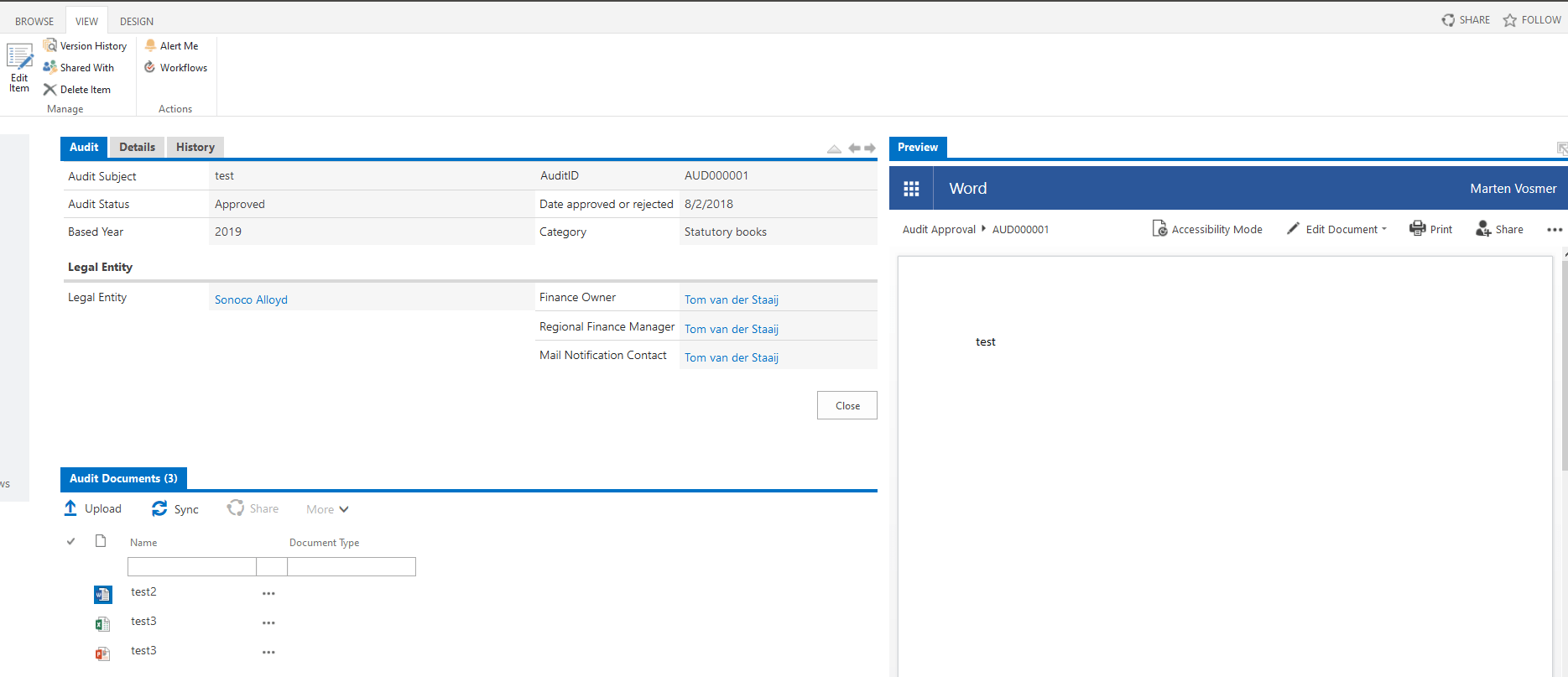 Example 2: On the second tab 'Details' the rich text is displayed. Note that we are still on the same SharePoint item as in example 1.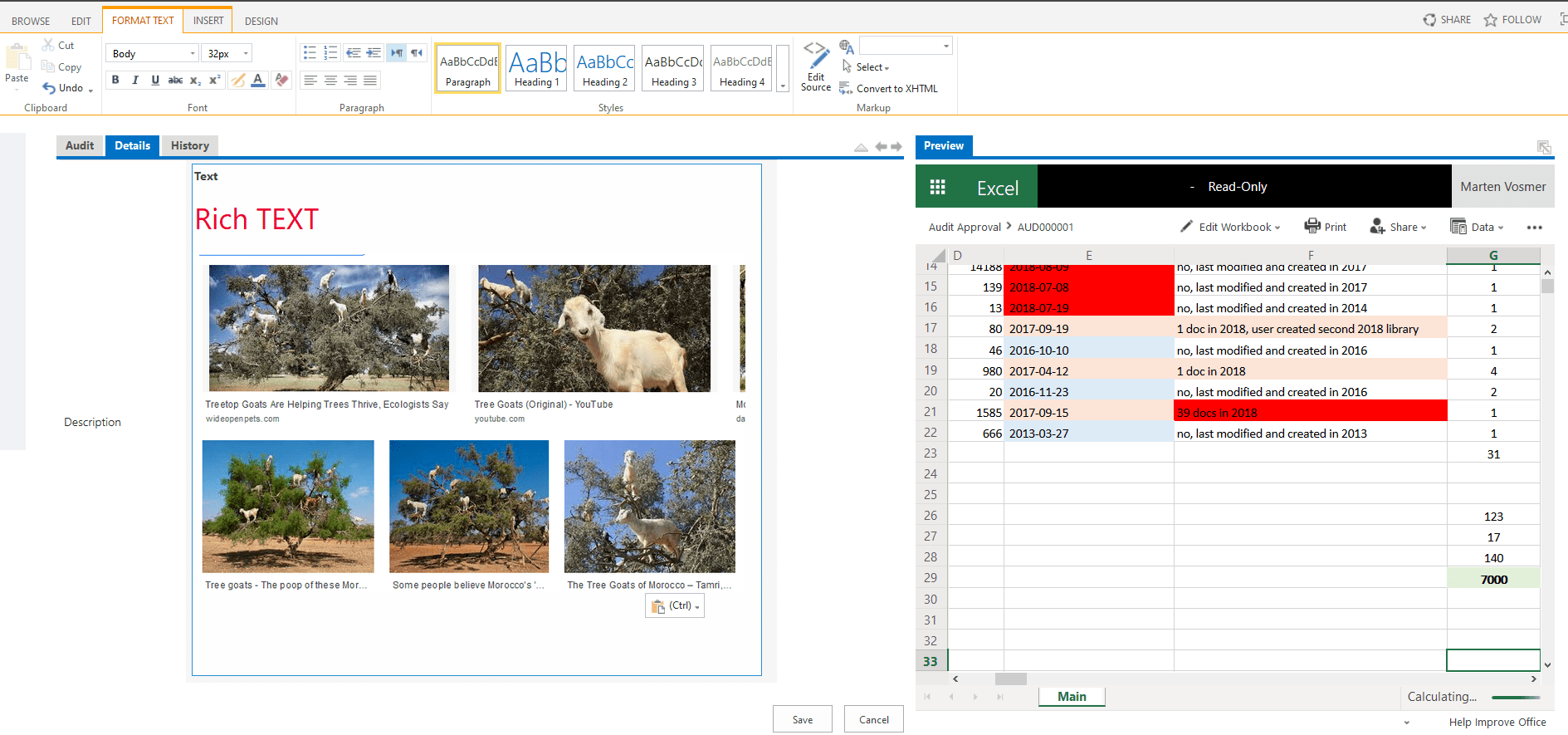 2) Dynamic Fields
Another typical Notes function (end user requirement) is dynamic fields.
Example 3: In the images below we have programmed dynamic fields (below the grey horizontal line) that are displayed or not on the form based on a certain user selection. E.g. If you click 'Due Date Change' different fields are populated than if you click 'Close Voucher'.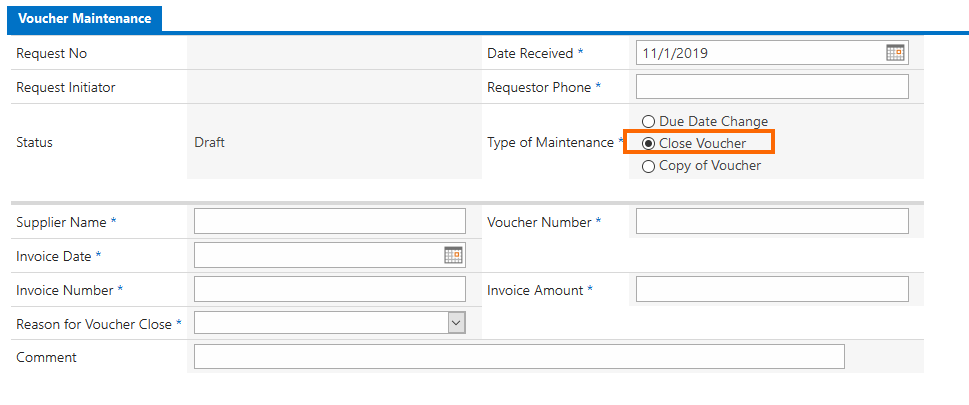 In below image dynamic relative choice fields are programmed. The values the user can choose from in Category field 2 are related to the chosen values in Category field 1.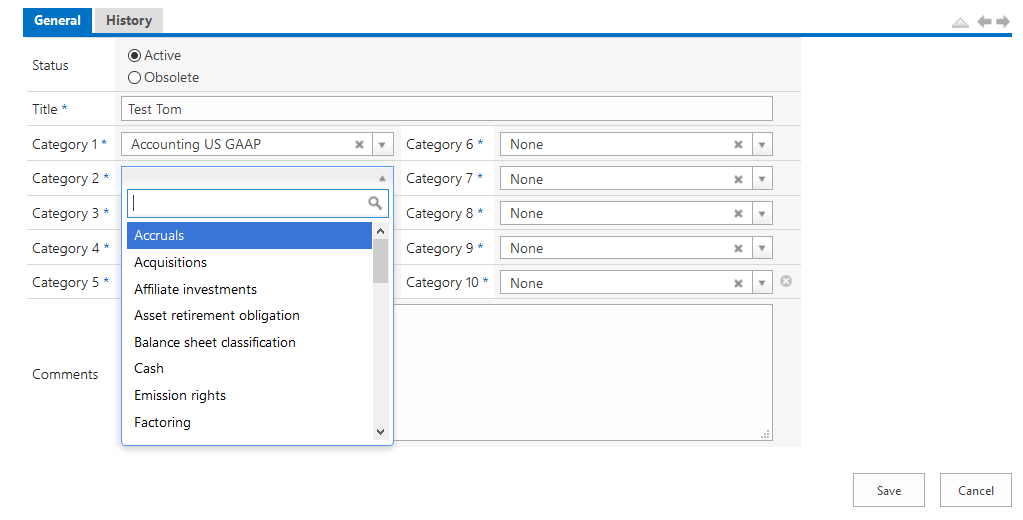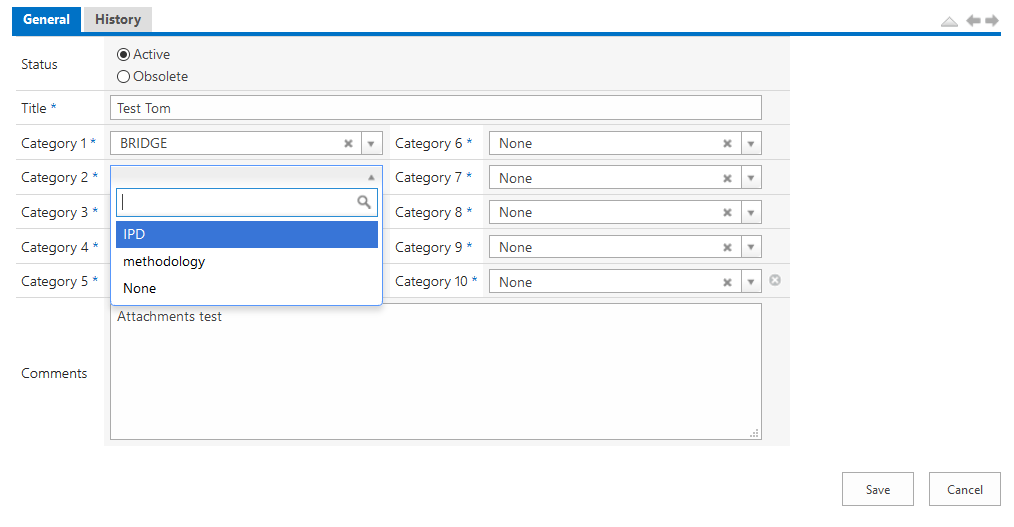 The above displayed drop-down values are configured in a SharePoint list and are easily configurable by the user as you can see below.
3) Workflows
In business applications the workflow feature is very important. The workflows in Shareflex are very rich in functionality. In below example a workflow is configured to check the field Type of Voucher Maintenance. Based on the choice made in this field different workflows are executed.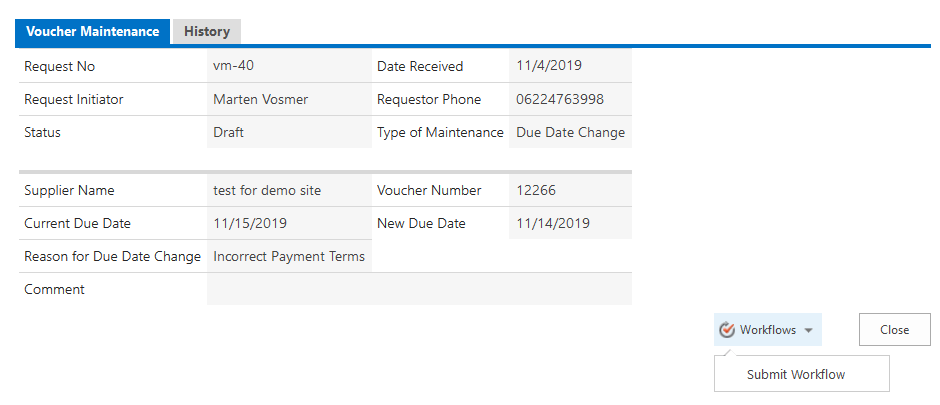 The workflow sends emails to the applicable user linking to the Shareflex workflow task. In this example there is an option to delegate the task to another user.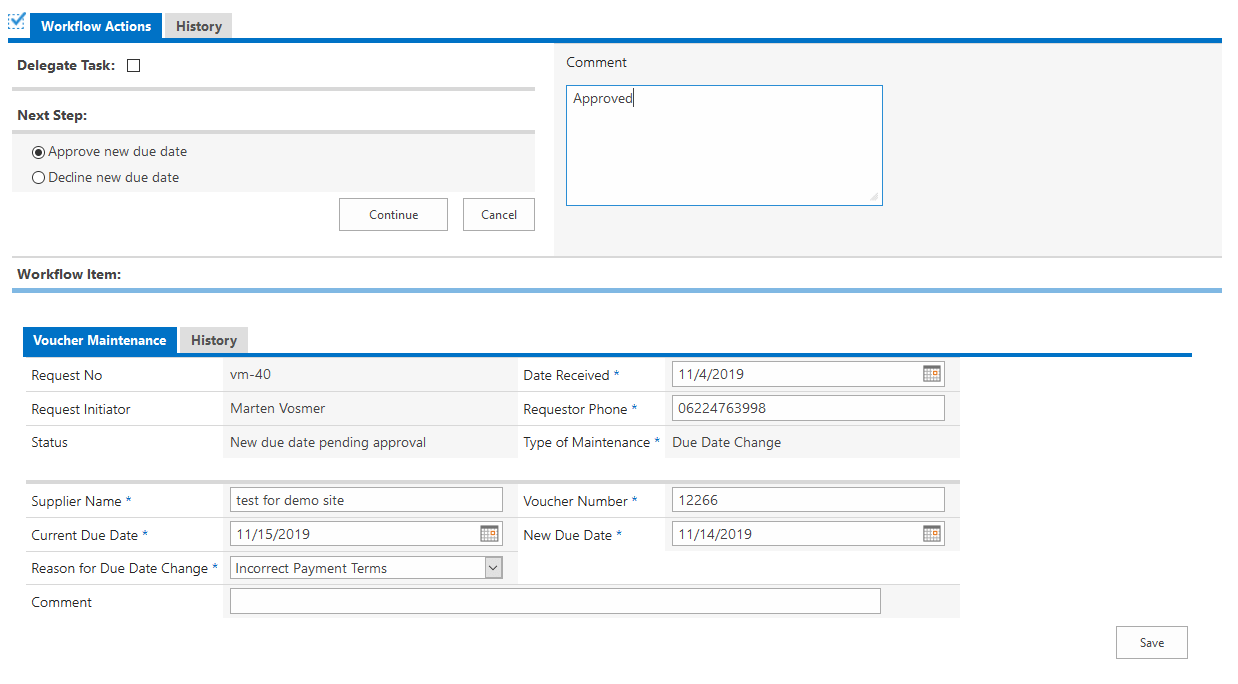 Obviously a work flow task cannot be submitted a second time, the form is changed and the user cannot edit it anymore.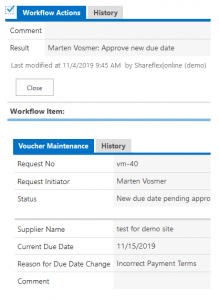 Once the due date has been approved the status is automatically changed to 'New Due date approved' as you can see below.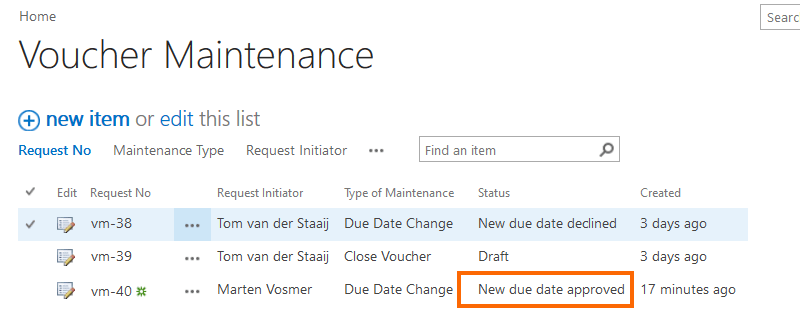 Subsequently the workflow fields like 'Initiator' or 'Status' cannot be edited by the users.

After the first approval the final approval by a second approver is done (4-eye principle) resulting in a completed request. If needed the approver can leave comments.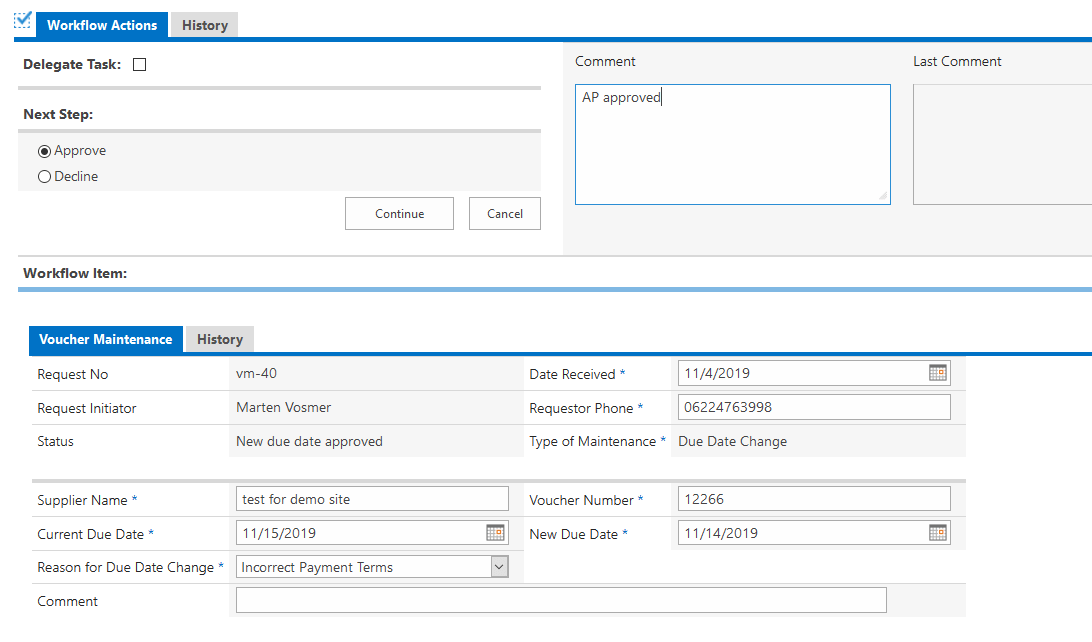 When the workflow is completed its no longer possible to edit the SharePoint item.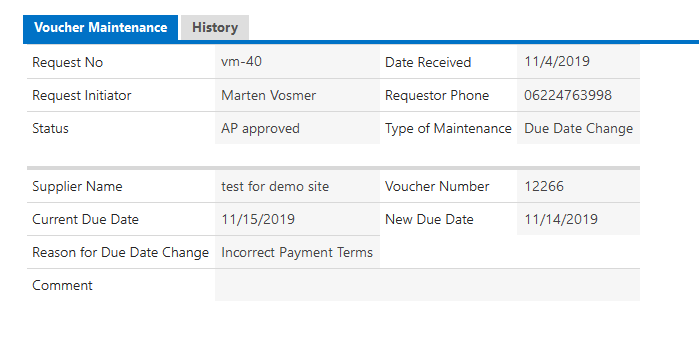 The 'History' tab shows the link to the completed workflow details for audit purpose.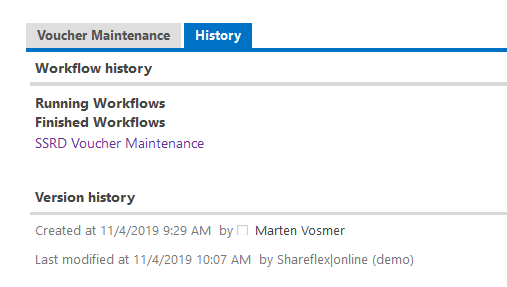 The workflow configuration is displayed in the images below. The owner may change certain workflow settings like the email subject and body.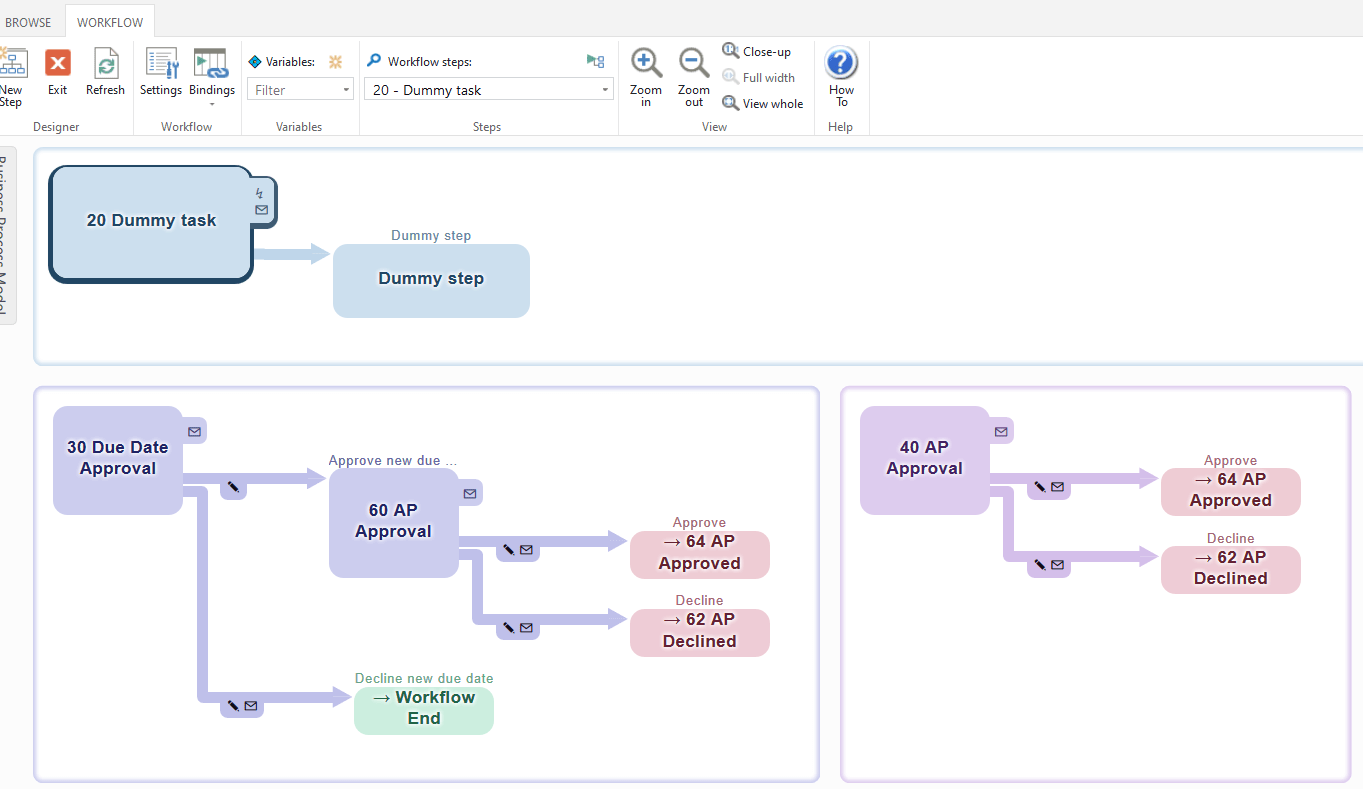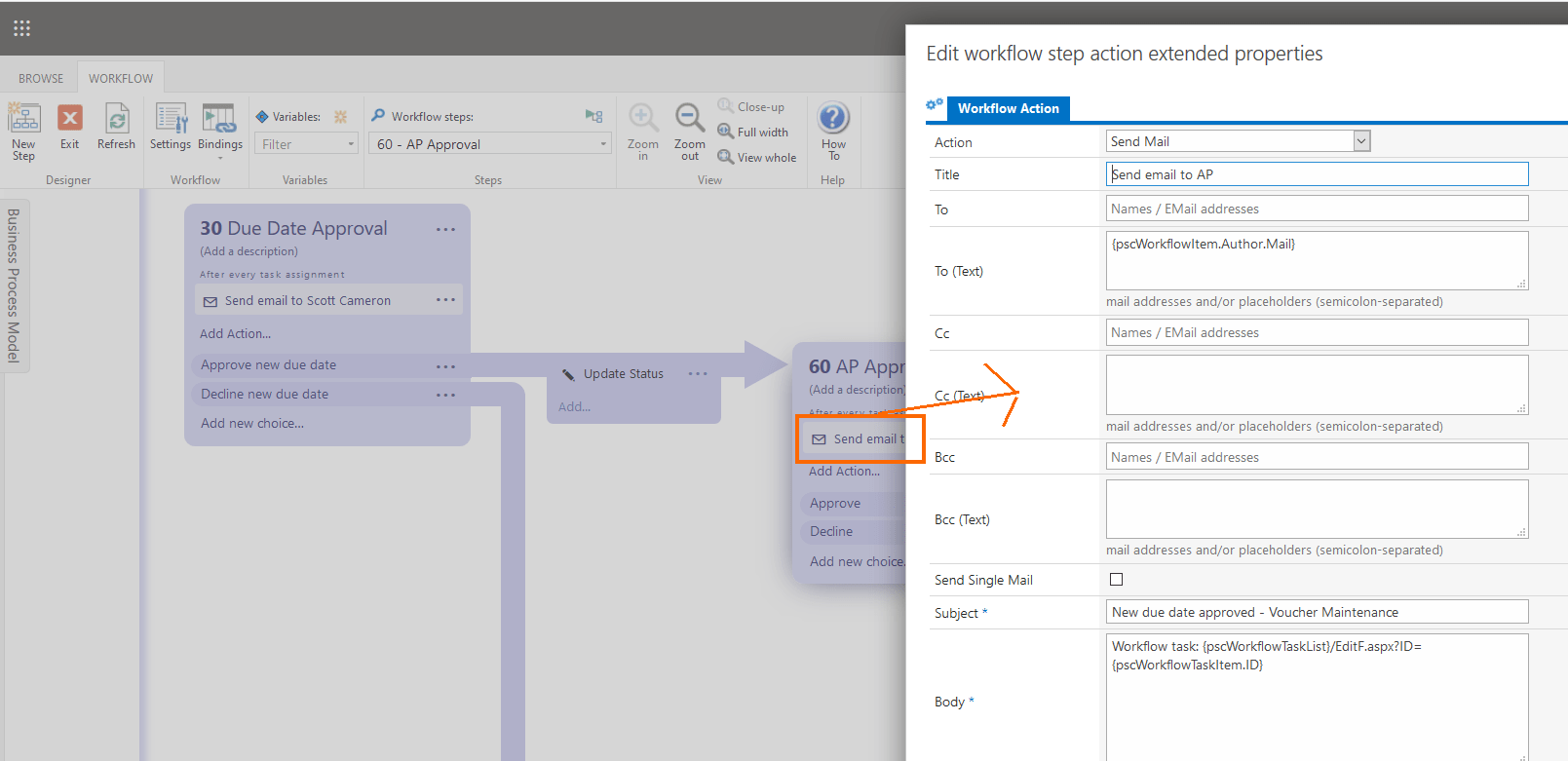 4) Field validation
Shareflex offers 'Field Validation' so the users know exactly which functionality is mandatory to fill out on the form. Of course the validation settings can be configured as per your need.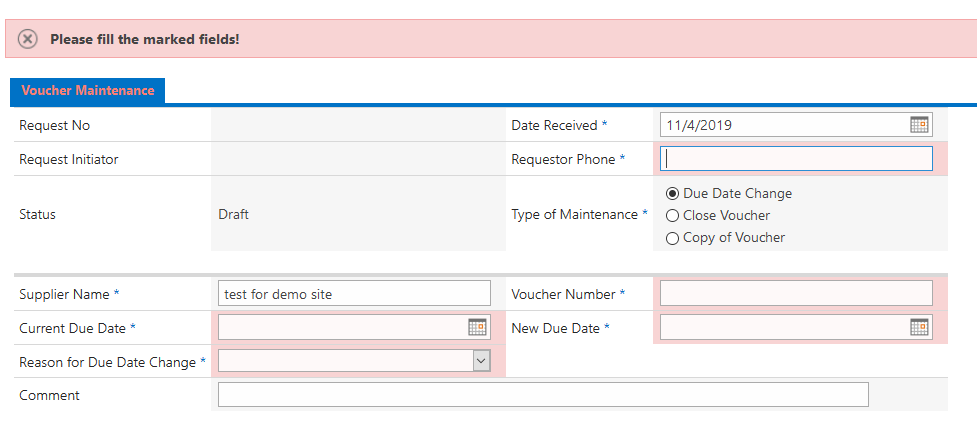 Last but not least it's important to mention that all the content is still stored in SharePoint lists and libraries and standard SharePoint security is in place.
The purpose of this blogpost is not to describe all Shareflex functions. There is much more "out-of-the-box" functionality within Shareflex than explained on this page. All Shareflex functions can be swiftly implemented by our developers, and, after some training, by your own developers.
In the next sections we will go into Shareflex deployment, development and our recommended Shareflex project approach. At the end we will also briefly touch upon the difference between Microsoft Flow/PowerApps and Shareflex for Replacing Notes business applications.
Shareflex Infrastructure
The Shareflex infrastructure is a complex matter. In this section we discuss the most important aspects. More detailed information can be requested at: sales@lialis.com
There are 2 main components needed to run Shareflex functionality on the clients SharePoint environment. The Shareflex|Online App delivering all the Shareflex functionality is running on a shared or dedicated Azure App. Once the Shareflex|Online App is up and running the Shareflex application can be installed on your SharePoint site as per below image.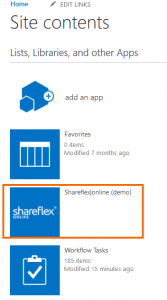 When the app is deployed the developers will gain access to the Shareflex functionality and the SharePoint lists and libraries can be enriched with Shareflex functionality
A form editor is supplied as shown below allowing the designer to develop complex but user-friendly forms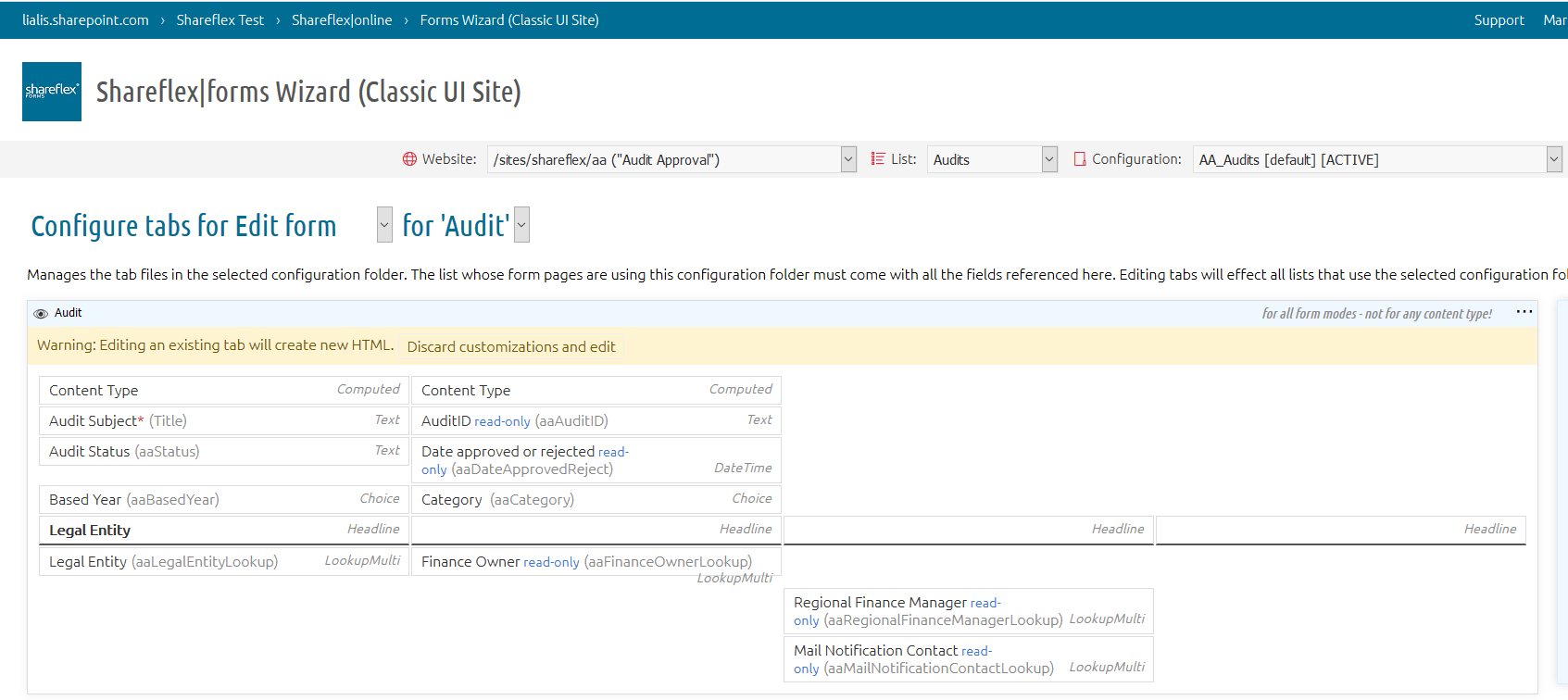 A Shareflex application design is completely stored in one central place: the Shareflex Core sub site. So configuration can be easily accessed.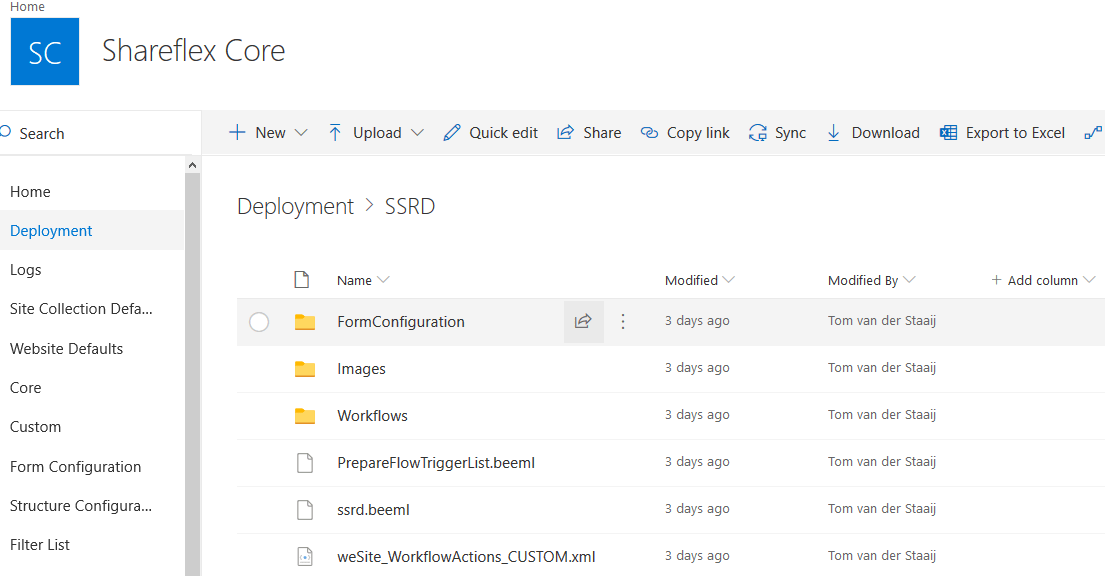 Deploying an application to the applicable SharePoint site is very easy now. All that needs to be done is copy the content of a pre-configured 'ssrd.beeml' file (XML-based) into the Shareflex provisioning tool and kick it off. The provisioning tool will now deploy the application in the destination SharePoint site. It will automatically create the lists and libraries, add the forms, create the workflow, set the security and, when needed, populate the keywords with values. The end result is a fully operational SharePoint solution in which the developer does not need to edit stuff afterwards.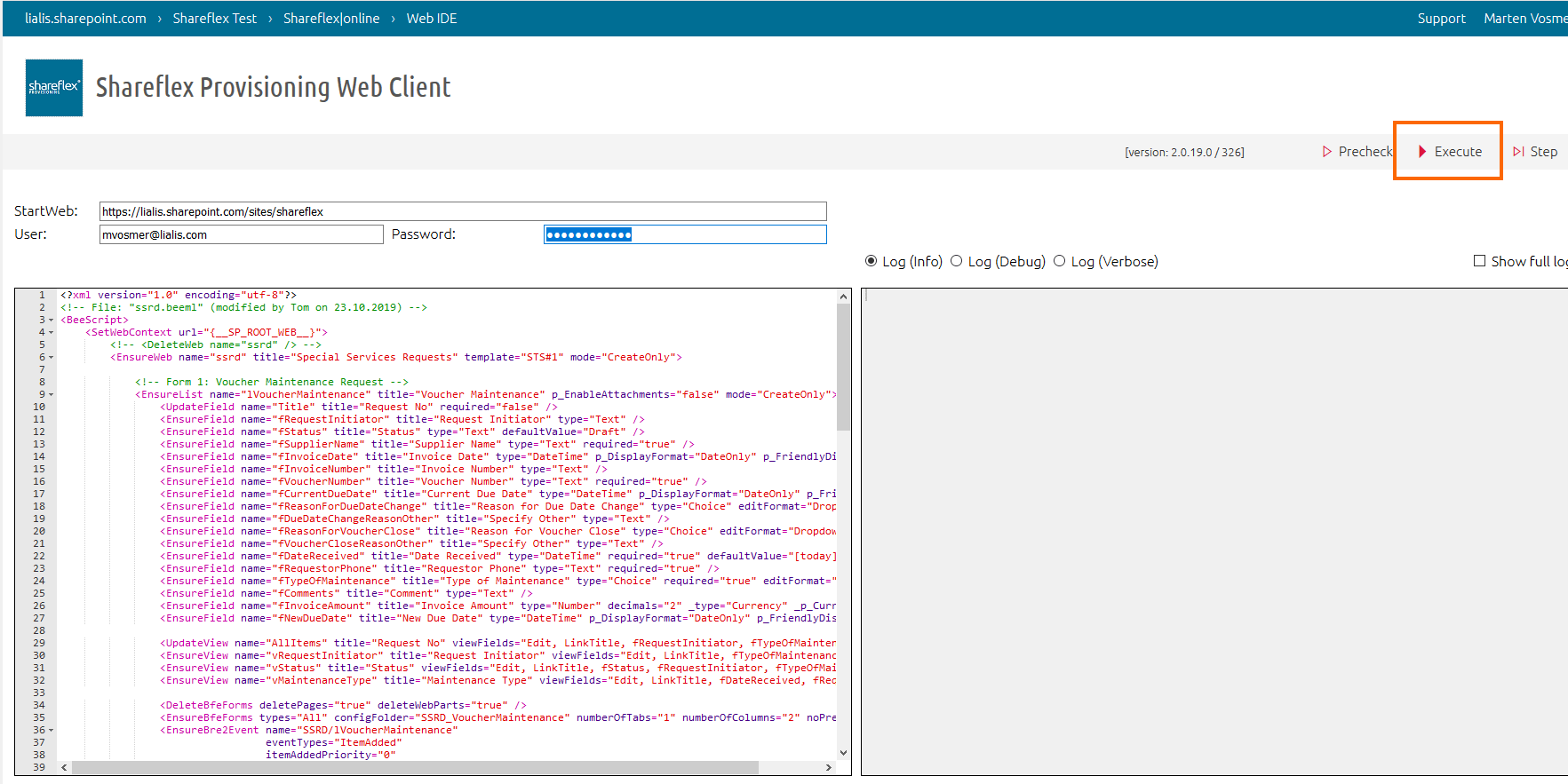 This piece of functionality is very important because it allows delegated SharePoint administrators (instead of developers) to swiftly roll out the SharePoint applications on development, test and production environments. It also allows you to set up a versioning system with fast roll back options of previous versions.
1) Swift duplications and copy past developments
A Shareflex application is generated by the provisioning beeml file content. A part of this beeml file is displayed below.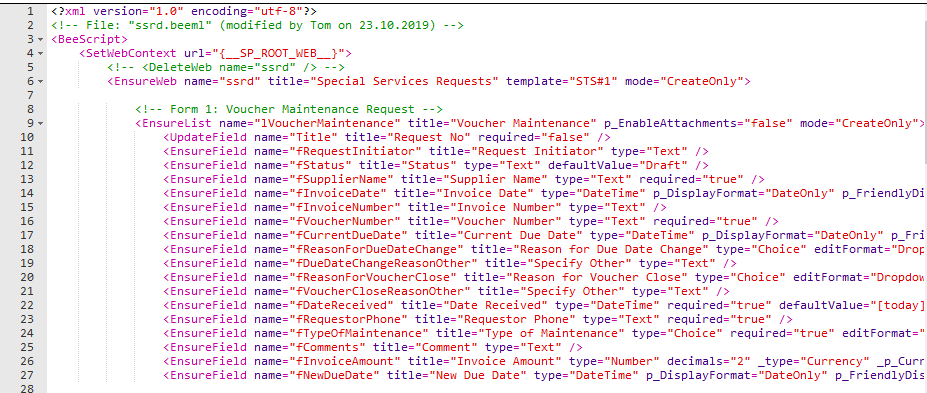 Above image shows the code that creates the SharePoint list where the Voucher maintenance items are created (when the code is loaded in the deployment tool and executed). When a developer creates a SharePoint application he/she bottom line works in the beeml xml file defining the columns, the fields and so on.
Shareflex allows a very fast 'Time to Market' for new SharePoint applications since all the developer has to do is to take the beeml code from the previous application; modify it in the xml editor to meet the new requirements (removing, modifying or adding xml lines).
Working in a xml text editor is a very fast way of developing SharePoint applications. When the beeml file is ready it is loaded in the Shareflex deployment tool and the whole SharePoint application is automatically deployed on the test environment for the developer to be reviewed.
A very important side effect of the way the Shareflex platform has been built is that it allows developers to quickly copy and paste functionality from the previous application. Developers can share code among each other simply by giving each other pieces of code from the beeml files.
Project approach to replace Notes applications with Shareflex
In many of our projects we come cross users that wish to copy Notes functions 1:1 to the SharePoint application. Although Shareflex is functionally very rich and can replace any Notes application design/functionality in SharePoint, our recommended approach is to always write a SharePoint application design of the features really needed. This is two-fold: first since some Notes functions simply cannot be copied as-is and secondly many Notes applications are developed a long time ago and are not well maintained so lots of functionality that was originally built in Notes is no longer required.
In the design process typical Notes functions that are more difficult to build are replaced with alternative functions more easily supported by SharePoint. In our experience once we engage with the application owner the needed functionality is always much less compared with the original Notes application. Engaging up front with the application owner will result in a smooth application development process and saves (a lot of) money.
Shareflex Pricing
Shareflex runs on SharePoint Online or on SharePoint on premises.
Shareflex online is designed for Microsoft SharePoint Online and requires a Microsoft Office 365 plan that includes Microsoft SharePoint Online. Shareflex online Cloud Services are hosted in the Microsoft Azure Cloud.
For SharePoint online the Shareflex application can be hosted on Portal Systems' Azure infrastructure or on your own infrastructure.
Shareflex is priced based on the number of named users (slab based pricing). A named user license grants access to an unlimited number of SharePoint (Shareflex) applications.
For more information on pricing kindly contact us at: sales@lialis.com.
Microsoft Flow & PowerApps vs. Shareflex
Many of our clients ask us whether they can use Microsoft Flow and PowerApps to replace Notes Applications. This is a valid question since these tools are part of the Office 365 suite.
In the core Shareflex allows you to build more complex business applications Below we have summarized a few differentiators between Microsoft PowerApps/Flow and Shareflex.
1) PowerApps & Flow
PowerApps is designed to be used for simple Mobile Apps on phone or tablet – meaning internal use.
All of the functionality in PowerApps is "no-code." This means that developers won't be able to add any custom HTML or JavaScript or do any hack-y things to the underlying device or the user experience of the application.
Some features of PowerApps/Flow:
It offers many interfaces & connectors
Execution on mobile devices
Easy and fast implementation / no-code / graphical Editor
Does not run on SharePoint, but can connect to SharePoint Shareflex for Office 365
Shareflex is advised for developing moderate – and high complexity business Applications for PC usage on SharePoint (Online).
It allows developers to use HTML or JavaScript coding to adjust the browser application user experience.
Some features of Shareflex:
Allows developing of complex UI / User-Frontend
High-end Business Rules & Automation (low-code)
Offers Predefined Solutions / Standard implementation
Graphical Editor for Business workflow processes
Script based deployment of the solutions (easy deployment and copy-paste)
Can interact with PowerApps and Flow