Over the past 7 years Lialis has been assisting many companies in Domino decommissioning projects. What started as a greenfield for us gradually developed into a proven method to supply clients with a full set of services and tools to facilitate the decommissioning. We call it the Notes Domino Decommission Method ('NDDM').
NDDM is an end-to-end approach allowing companies to determine and manage the migration scope, communicate with end-users, close database access, etc, without (much) help of Lialis or internal Domino administrators and developers. In other words NDDM can be executed by people who are not very experienced in Domino administration duties.
NDDM includes features such as:
A detailed scan of your Domino environment to determine usage, design, owners, etc
Batch closing of Notes databases access
Making databases read-only in Batch
Sending out batch emails to most recent Notes databases users with tailored info
NDDM is adding features to our Notes database scanner tool by replacing the design of the scanner with the NDDM Notes design template.
After carrying out a full Notes Domino server environment scan you get a very good insight in the usage and design of all Notes applications. The next goal is to determine the migration scope by identifying which Notes databases:
are no longer needed (delete)
are Notes system / admin tools (out of scope)
have content that is no longer modified, but users need to keep read access to the content (archive)
have content that is modified and hence need to be migrated or replaced (migrate)
In this post we explain how to analyse the Lialis scanner output in Excel by looking at certain Notes database characteristics. The result of this analyse is that the Notes databases get initial targets in the excel file. In our projects we use below targets as a starting point:
010 – Domino system database – not part of the application migration scope
020 – Domino support tool – not part of the application migration scope
100 – Notes database has no or low content – delete candidate
200 – Mail – not part of the application migration scope
300 – Notes database in use – migration candidate
302 – Notes database in use – no users
400 – Notes database not used/but read – archive candidate
500 Notes database not used/not read – delete candidate
For certain Notes databases (e.g. target 100 and 500) it is obvious they are no longer needed. Access to this group of Notes databases can automatically be closed using the ACL close tool which is part of the NDDM solution (if needed they can be re-opened with one click).
NDDM also supplies the option to change the Notes database access to read only in batch, this is a good thing to do for Notes databases with target 400 because its expected people don't modify the content anymore
The initial targets listed in the excel can be uploaded from the excel file into the NDDM tool for further management (targets can change based on end user communication). See the image below: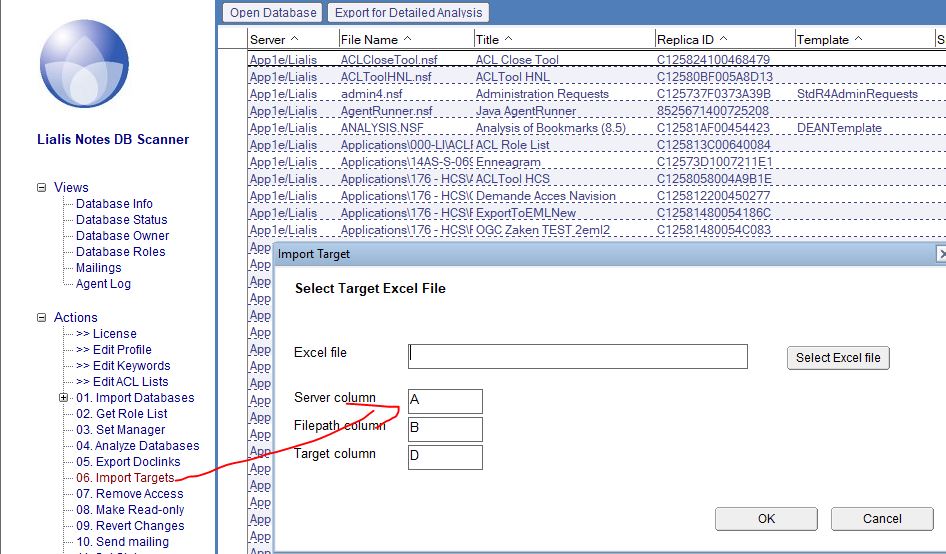 The result of this upload is displayed in the image below. Now you have all databases including targets in NDDM in one single overview.
Now the fun part starts. For example close access to all databases with the target 100 and 500. To do this we must we first must tell the NDDM tool how to close ACL's and what ACL entries not to touch by setting below details: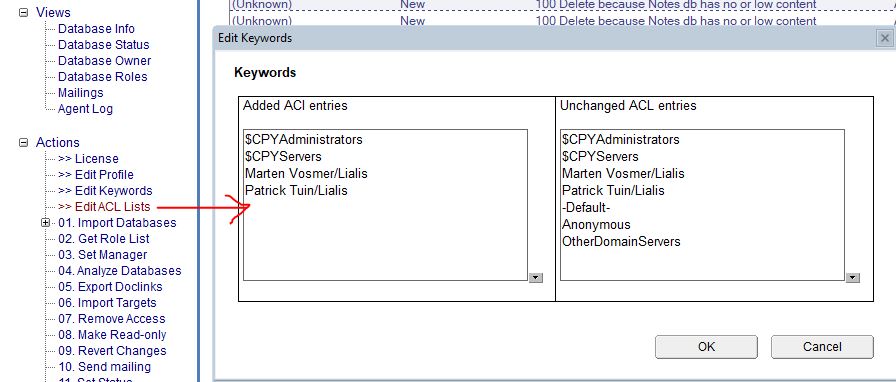 Because we have the targets loaded in NDDM it is easy to close the access to the 100 and 500 Notes databases by selecting all applicable Notes databases and press '07 Remove access'.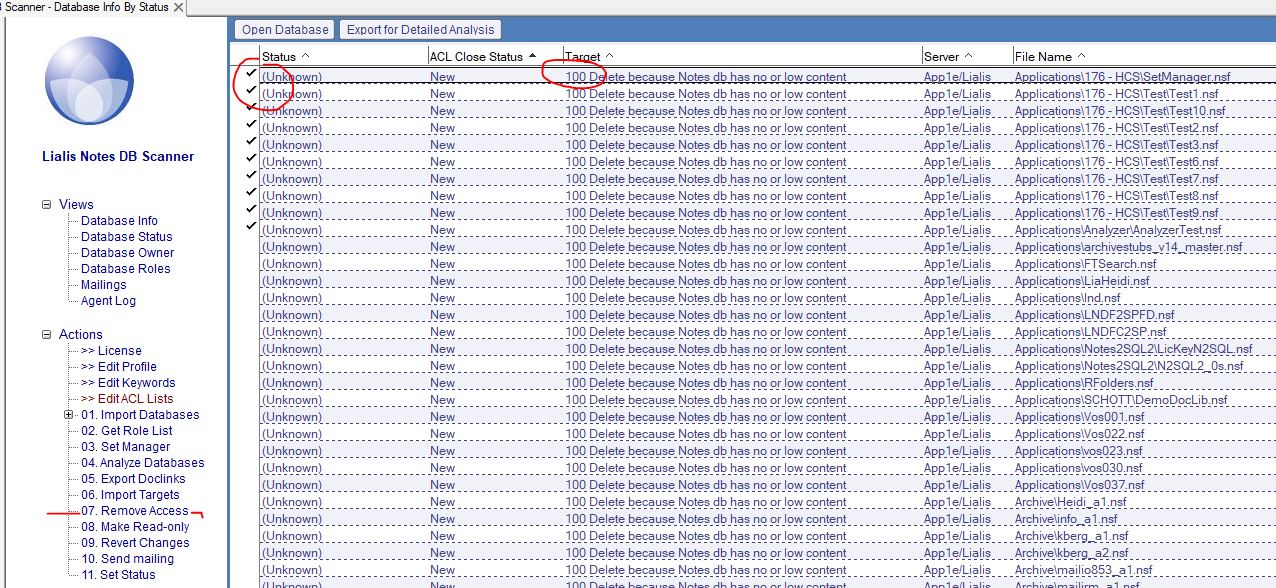 This will set all ACL entries to 'no access' (except the ACL entries you have set to 'not touch'). The ACL close status will change accordingly.

NDDM keeps close track of how the ACL of the applicable Notes database was closed. See the image below: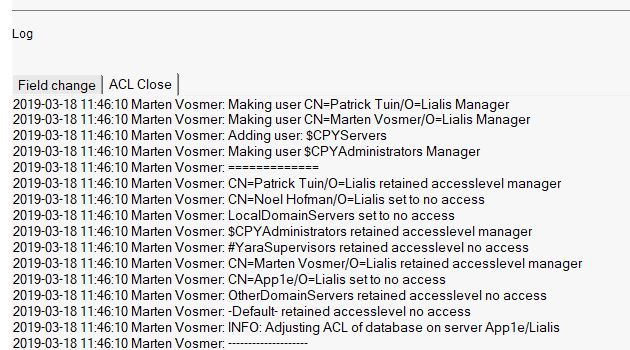 As you can see the menu gives the option to revert the ACL close operation in case needed (e.g. an end user complains (s)he no longer has access).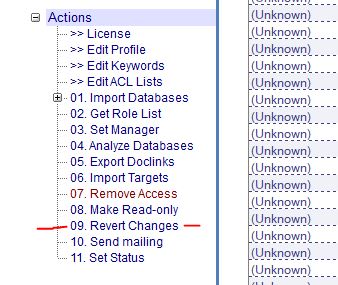 Thanks to the insight NDDM provides, in most of our Notes decommissioning projects we have been able to instantly close the vast majority of Notes databases because of no usage or low content. This gives you a quick win in your decommissioning project and necessary manager's buy-in.
Now we have tackled the categories 100/500 (close ACL) what's left are the Notes databases with status 300, 302 and 400 where additional investigation is required to determine what needs to be done with the particular database.
This asks for communication with the application owners (database users are found during the scan). In our experience this part is very time consuming and making this more efficient will pay off. NDDM gives you the option to send out batch emails to multiple Notes database users with a tailored message to ask for input or actions.
The batch emails can be configured here: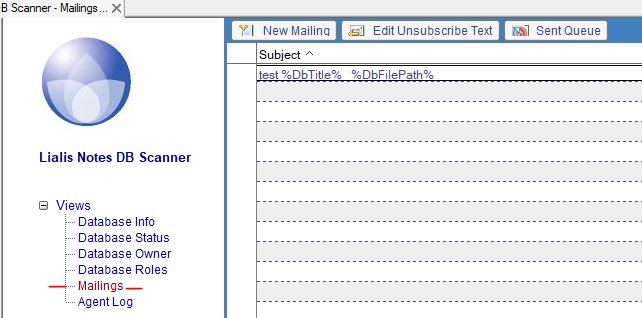 It is possible to configure multiple emails for each scenario. In below example multiple emails are sent out in batch to users who have used Notes databases in the past. The batch email allows to add Notes application specific details from the scanner between the % sign.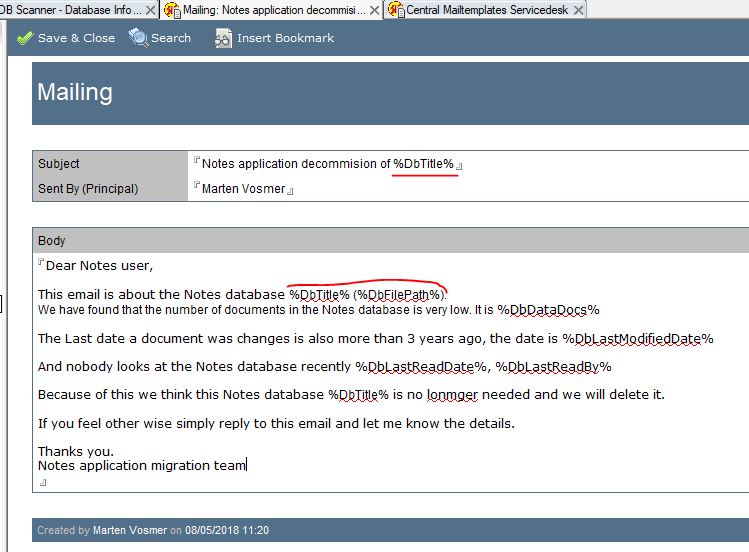 Once the scope and targets have been determined you can start migrating and archiving Notes applications and hopefully pull the plug out of your Domino servers in the foreseeable future. For more info on how to archive and migrate Notes applications please refer to our dedicated Notes migration website.
NDDM has proven to be very valuable for our clients. After installation/configuration and some training you will be able to use it independently. We take pride that more and more companies see the added value of NDDM and find new ways of using it that we had not even thought about when building it.
NDDM is licensed by the number of Domino servers in scope.
In case you are interested in an offer or want more information kindly contact us here.