Lotus Notes database export to SharePoint Online
Introduction
In most of the Domino decommissioning projects a substantial part of our clients Notes databases are no longer actively in use. However, users still need to read the data or keep it for financial or legal purpose. For this purpose we offer our Lotus Notes Database Export Notes2SP service. This cloud migration factory allows you to easily export Lotus Notes database to SharePoint Online (SPO). In other words offering you a real alternative for your lotus notes databases.
When we convert a Lotus Notes database to SharePoint Online we create a read-only dump of the Notes database views, forms and all Notes content (including attachments). We always upload all content in the Notes database to SPO so we don't forget anything. Hence a selection of which Notes content you wish to dump is not part of the service. We support all Notes database designs and all Notes database content. However, Notes security is not moved to SPO (unless specifically requested). We strip it away and simply move everything across. Notes dynamic forms are adjusted in such a way that SPO displays all fields. Finally, the service supports Notes response structures which are visible in the SPO views and on the SPO export forms.
How does a Notes database dump look in SharePoint online
The image below shows the output of a read-only Notes knowledge database in SPO.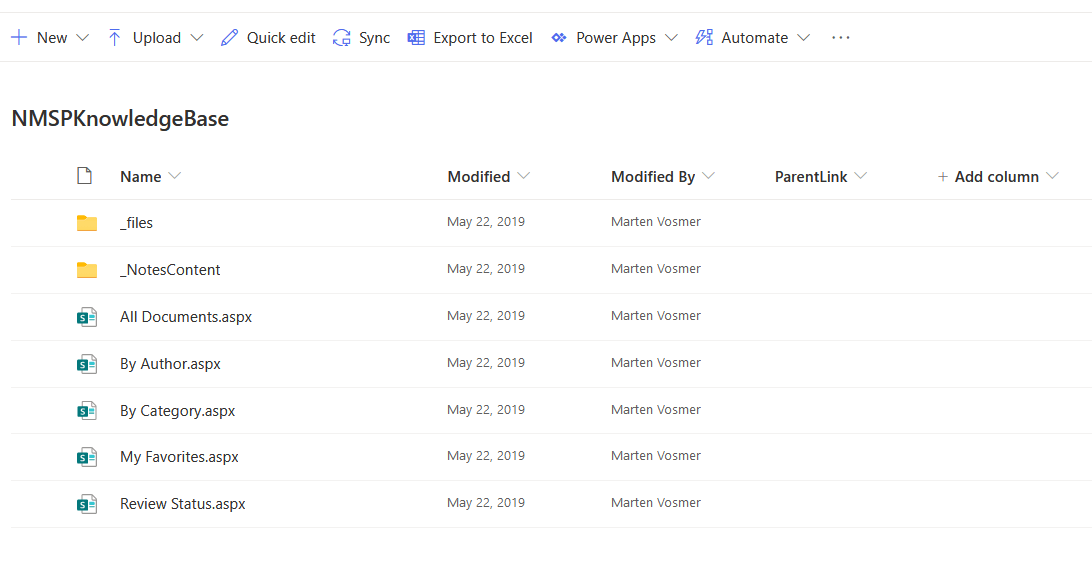 As you can see in the orange box, all (not hidden) Notes views are recreated in the SPO site as aspx files that a user can open.
These aspx files will display the same information that you will see in a Notes view. For instance; view content, columns, categories and response documents.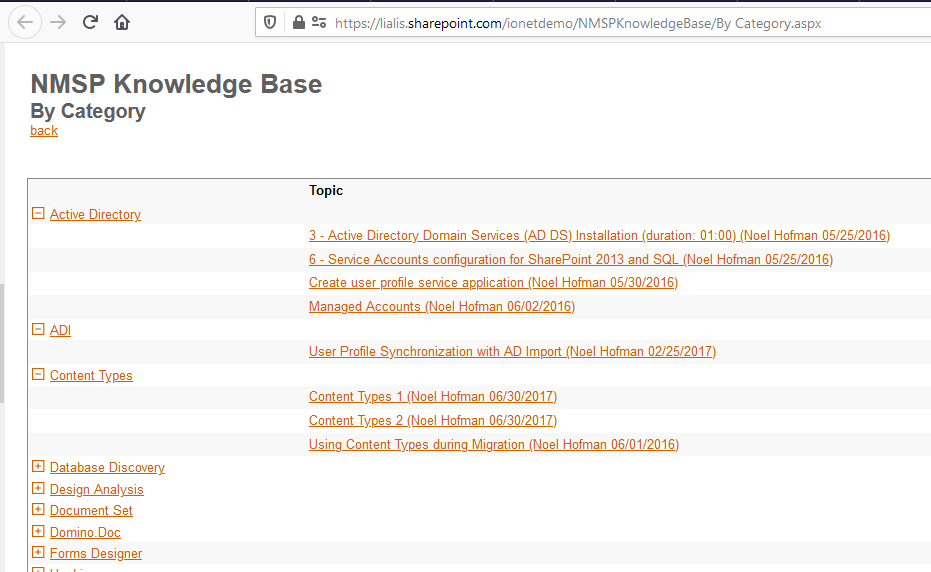 Additionally, the SPO view allows the users to open the Notes document in SPO.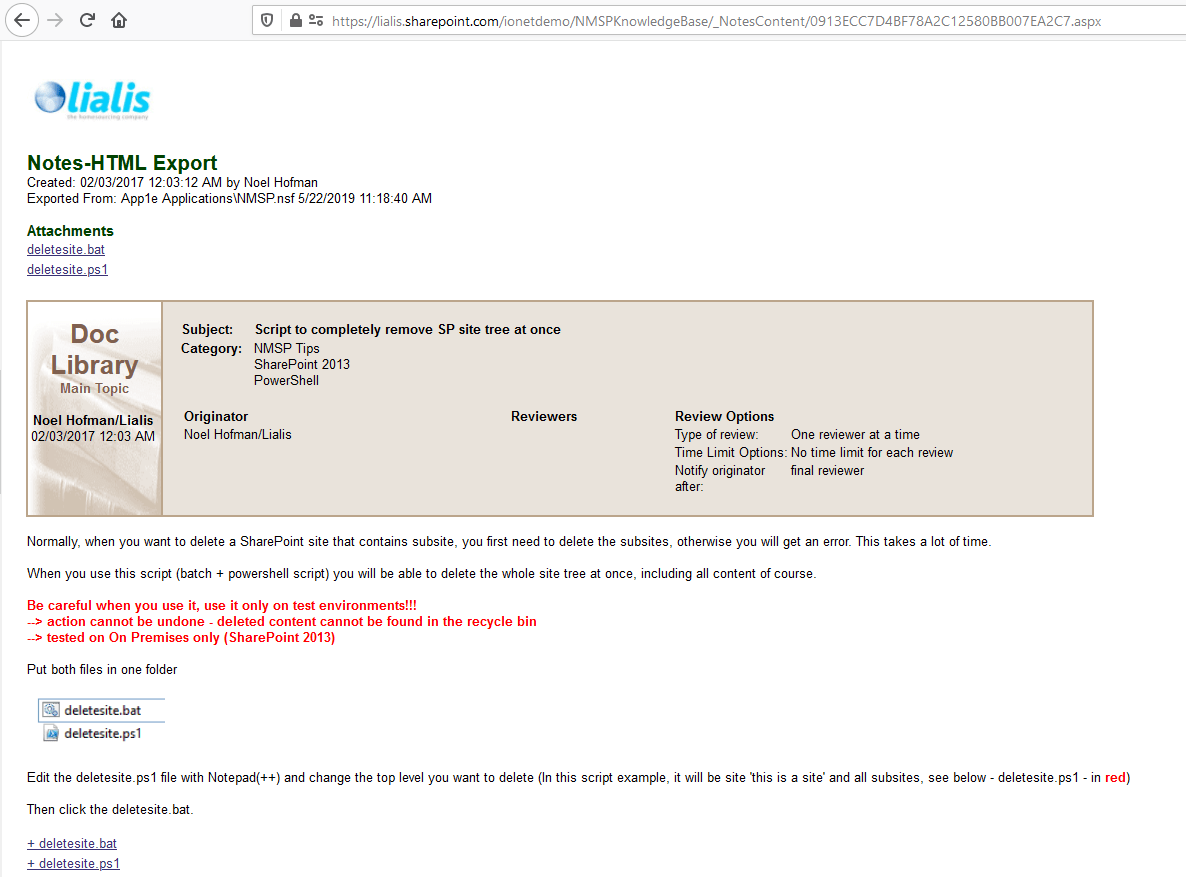 Please note in the above image that files are visible both on the top of the page as well as on the original location in the Notes document.
Similarly the Notes response document structure is dumped to SPO. This is unique to our approach. Below image displays how it looks in SPO.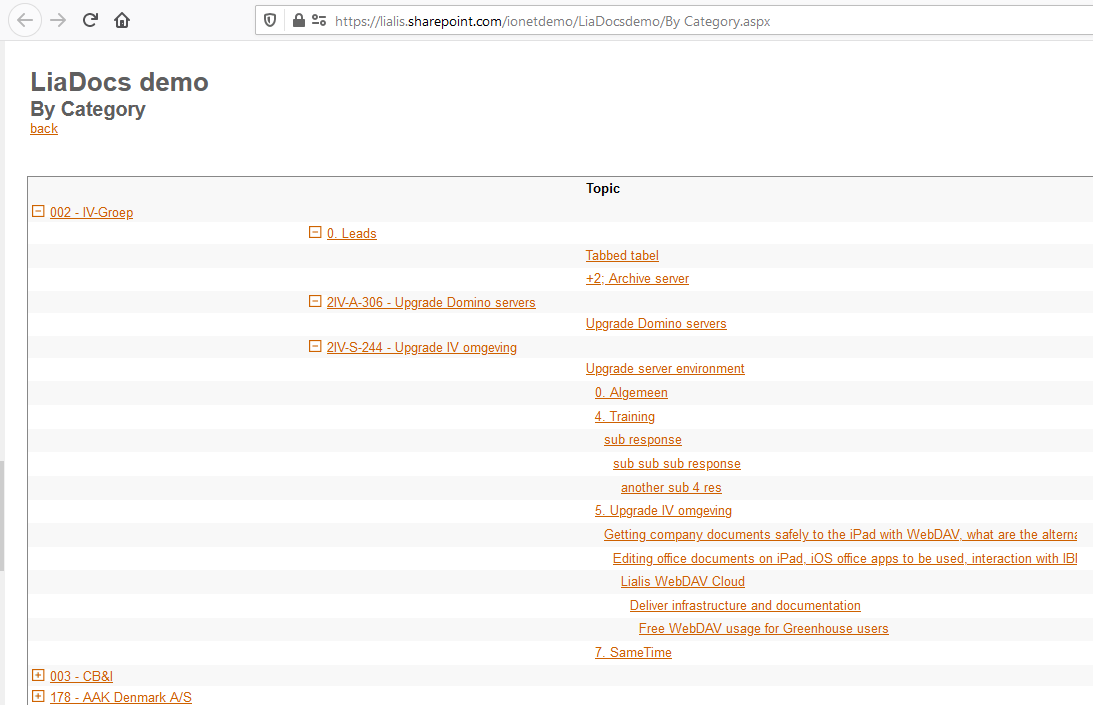 Pricing
We offer the Notes2SP service at the following fixed price per database.
PRICE PER NOTES DATABASE 
€ 285,–
Includes:
1 Export Lotus Notes database to your SPO site
Unlimited Notes Database size                                                           Unlimited number of Notes documents
Pricing example:
Dump 10 Notes databases to SPO:
10 x €285 = €2.850,–
Conclusion
The majority of Notes databases we discover in our Notes decommissioning projects are only used for information purpose. In other words, users do not modify any data. As an organisation you don't want to spend huge effort and budgets to move this data to another platform. On the other hand, users still need to have the opportunity to easily access and view this data. Preferable on a data platform they commonly use such as SharePoint Online.
To accommodate this need we combine best of both worlds. Our Notes2SP service allows you to convert your lotus notes databases to SharePoint in read-ony format keeping the original Notes structure. Users will quickly recognize the Notes data and can, at the same time, make use of the advanced SharePoint Online search capabilities.
If you are looking for more information don't hesitate to contact us. Already convinced? It's easy. Simply follow these instructions.