IBM Notes Domino Conversion to File Server

Introduction
Lialis offers a fully automated IBM Notes Domino database conversion solution to a File Server. Essentially the IBM Lotus Notes Domino database conversion creates a read-only dump of the Notes database views, forms and all Notes content (including attachments) in PDF file format, stored on a file server or disk drive.
How does it work?
Our IBM Notes Domino migration tool renders all the Notes views in the Notes database to PDF files to be stored on a File Server.
The image below shows the output of a read-only Notes Teamroom database on a File Server.
The typical Notes Teamroom views are displayed ('By Category', 'By Author', 'All Documents').

The above listed PDF view files, that the migration tool renders, displays exactly the same information as in the original Notes view.
For instance; view content, columns, categories and response documents. Please see below image which displays the Notes Teamroom view By Category.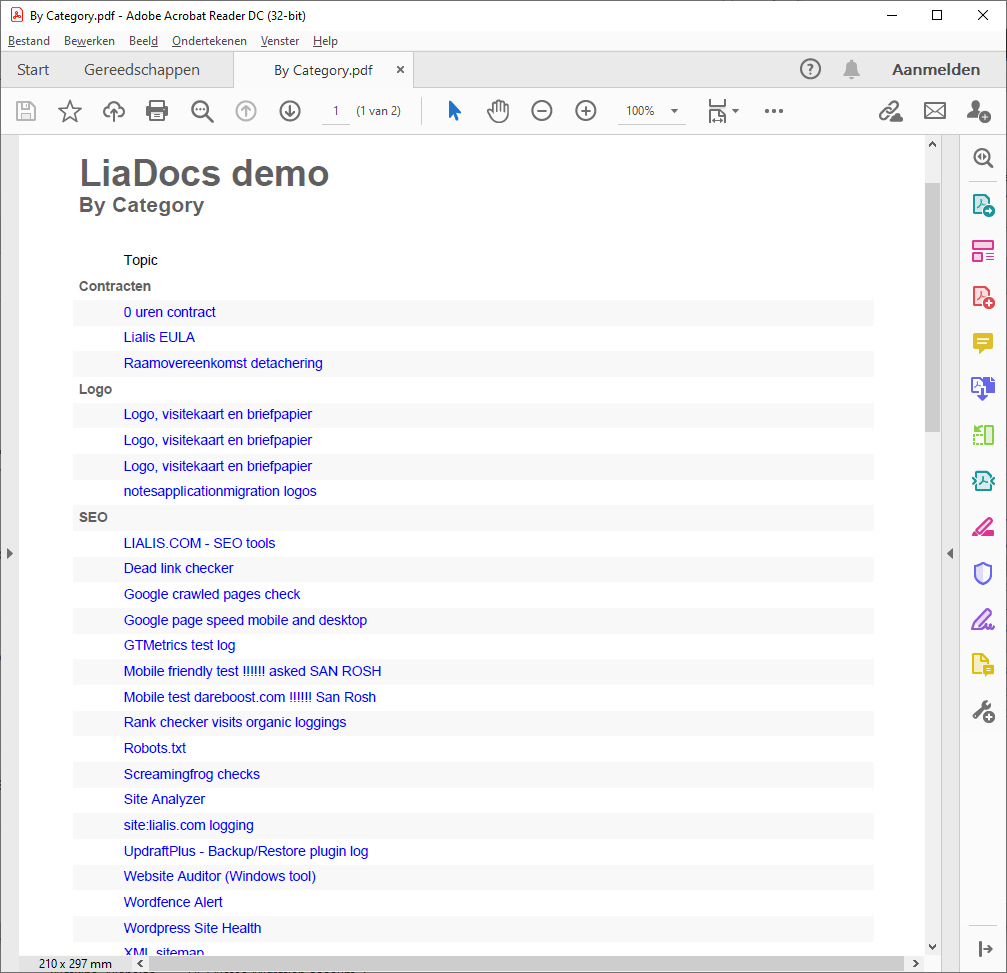 Of course the PDF view allows the users to open the Notes document stored on the File Server. When you click on the view the complete Notes form with all fields and layout is visible in File Server PDF.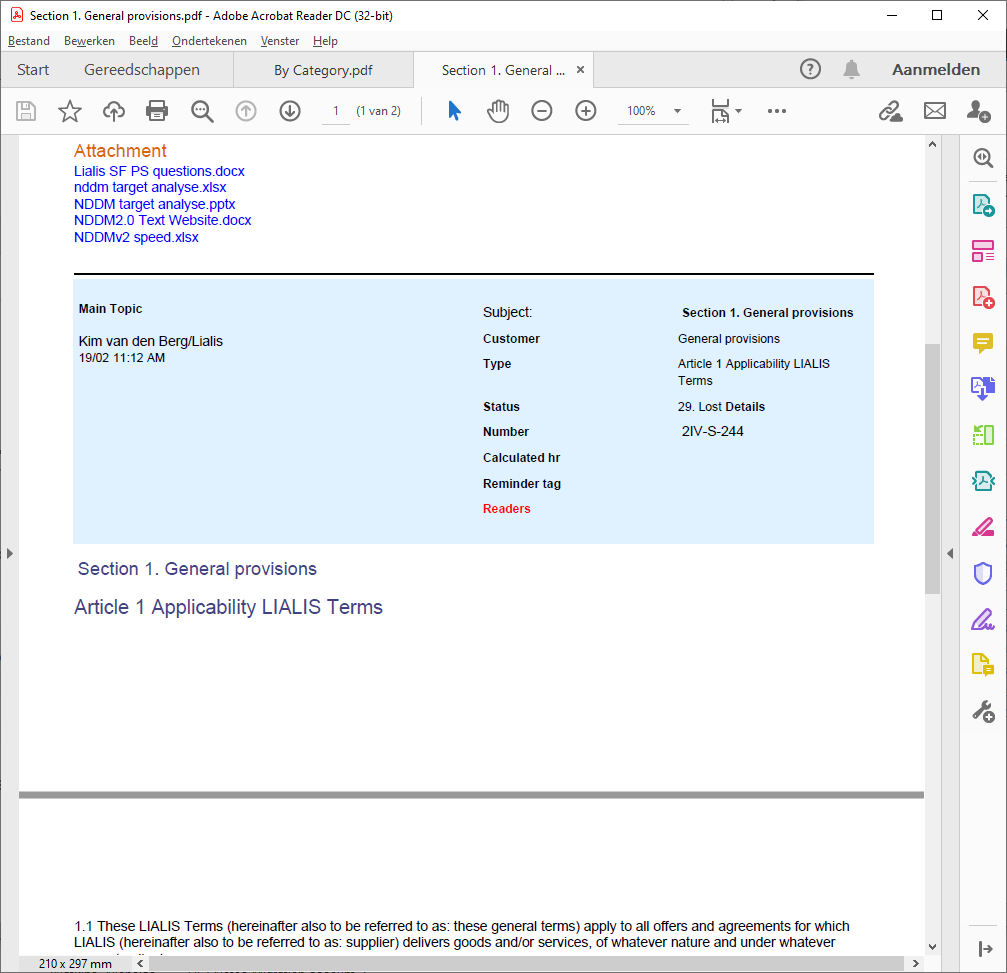 Please note that in the above image files are visible both on the top of the page as well as on the original location in the Notes document.
Similarly, the Notes response document structure is visible and accessible. This is unique to our Notes migrator approach.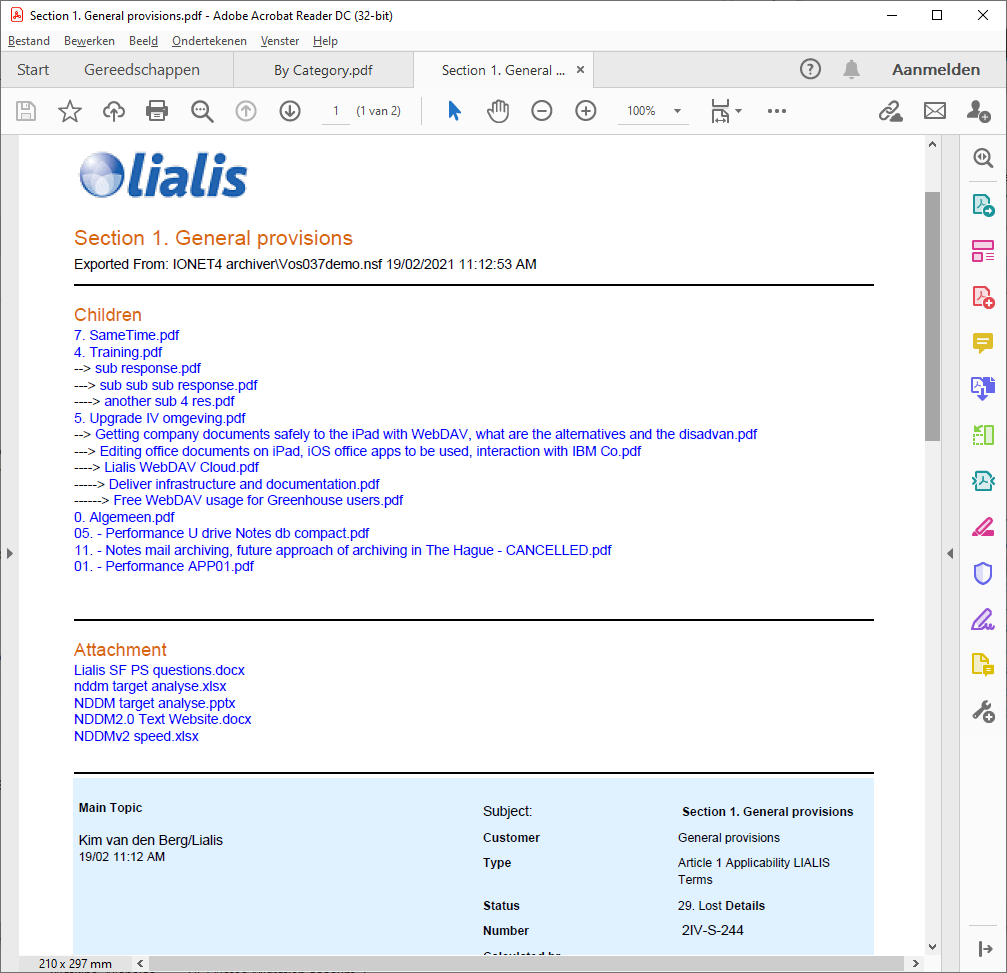 The complete IBM Notes Domino database export folder structure can be stored anywhere, on drive D, Drive G in any folder. The links in the PDF files will continue to work. We use so called relative links.
What do we support?
We support any Notes database design
The Notes database dump to File Server is in read only format. No alternating of PDF file content in File Server (expand/collapse or column sorting) is supported
We archive all Notes database content to a File Server. This includes files and Notes form mock-up/layout
We convert all Notes views to PDF files. The hidden Notes views (system views) are skipped
We support renaming and removing of PDF view files
View PDF files are not dynamic. For instance, users can not alter column sorting or expand categories
We archive all attachments/files to File Server
We convert embedded OLE objects to attachments. However, we do not guarantee a 100% conversion rate. This is because we do not have all (old) supporting software used to create the OLE objects
We don't archive embedded views on the Notes form. However, users can find the documents displayed in the view in the final archive
The Notes database may not exceed the maximum size of 64 GB enforced by Lotus Domino
We support Notes document parent child structures
We support Notes document links. So the link can link to Notes documents in the same Notes database.
Technical details
The beauty of our IBM Notes Domino decommissioning applications approach is that the archive process is automatic. We simply select the Lotus Notes database and the File Server destination drive. Subsequently, the whole Lotus Notes Conversion process is taken care of by our conversion software.
We don't have to spend time looking at the Notes form design, view columns, etc during the Lotus Domino Archiving. This is all taken care of by our conversion software.
IBM Notes Domino database archiving to File Server is similar compared to our already existing solution that archives Notes databases to SharePoint (Online) or BOX.
In this post we describe this an alternative approach to SharePoint Online should you be interested.
Conclusion
Many of the IBM Notes Domino users we come across in our IBM Domino conversion projects have a need to keep historical Notes data for a financial or legal purpose. Companies simply don't want to keep their Domino infrastructure in place just for these databases alone. As a result, they are looking for a low impact archiving solution that offer end users easy access to data on alternative platforms in a format they recognize.
This is exactly what our migration factory does. It allows users to dump the original Notes database on several platforms such as SharePoint Online and now also on File Server.
Thanks to our automatic archive approach we can offer this service for a relatively low fixed price per Notes database.
Interested? Just hit the contact button so we can have chat.