HCL Notes agenda free busy time sharing to the outside world
It's a hassle in HCL Notes; planning a meeting with people who can't see your agenda. Sending emails around with available dates and times.
This is now history with Lialis Plan Jockey for HCL Notes and Domino.

Lialis Plan Jockey is a website page showing the HCL Notes agenda 'free and busy' time of a particular HCL Notes user to anybody. The HCL Notes user can share this website page URL with any person outside your Notes environment. The recipient can view the HCL Notes agenda free and busy time website page, choose an available time slot and propose a meeting. The HCL Notes user will receive an invitation in his Notes mail box which he/she can approve, reject or reschedule.
We support HCL Domino server R8.5 and higher.
You can configure which Notes mail agenda's are published on Plan Jockey.
Plan Jockey supports scheduling meetings across different time zones.
Demonstration video
How it all works
In this demonstration we use the following test scenario. The Lialis Test user is the HCL Notes user who you are trying to plan a meeting with.
The Lialis Test user send you an email with the link to his Plan Jockey Agenda: http://planjockey.lialis.com/testuser (this site is not alive).
Click on the above link and choose a free time slot on the Plan Jockey agenda of the Lialis Test user by simply clicking on a green box in the agenda. Then enter your name, email address and description as illustrated below.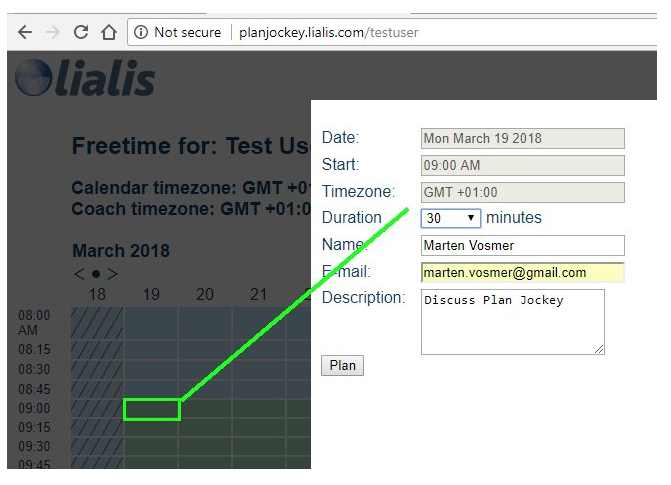 Press the button Plan and you will see the following confirmation "The meeting has been planned!".
The HCL Notes user will get the email invite in his inbox.

Double click on this invitation. You will now be able to confirm, cancel or reschedule this invitation.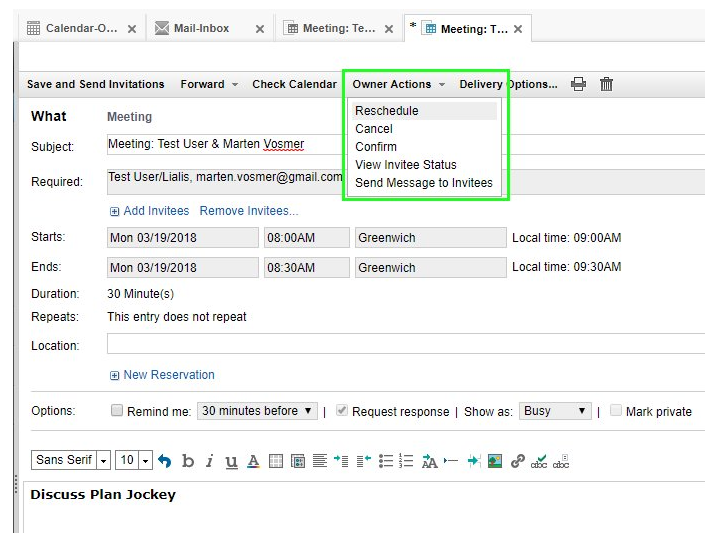 In this test scenario the meeting will be rescheduled to one hour later.

Press 'OK'

Now in your gmail box you will have received the meeting invite with the rescheduled time proposal from the Lialis Test user.

This meeting request can now be accepted.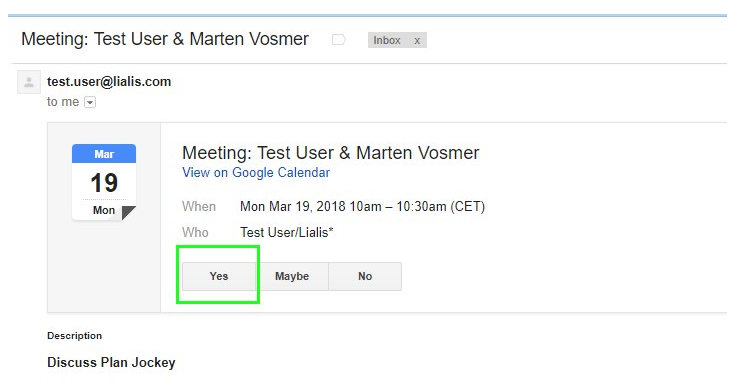 The Lialis Test user will receive an email that the meeting has been accepted in the gmail box.

And the meeting in the Lialis Test user agenda will now show that the gmail user has accepted this meeting.

Finally the Plan Jockey page of the Lialis Test user will display the new time slot as 'Busy' now.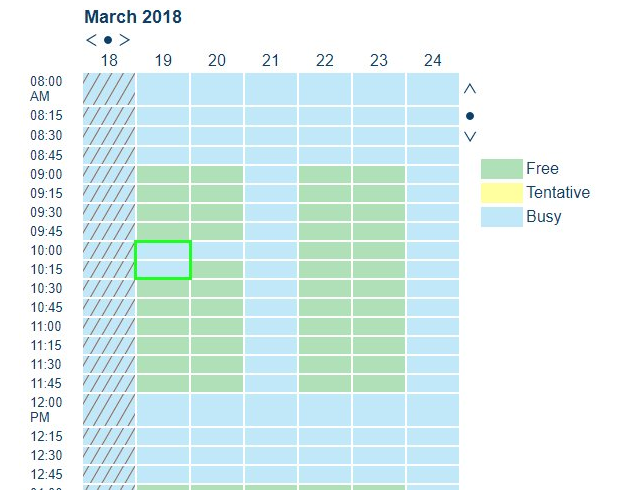 We hope this demo setup will give a good impression of the Lialis Plan Jockey possibilities. Enjoy testing.
Time zone management
Plan-Jockey works across time zones, converting the time zone from the Notes user to the client time zone. Internally Plan-Jockey works completely with GMT time, to make time zone calculations manageable. It also takes daylight savings time into account across calculations.
Let's assume a person in Los Angeles wants to make an appointment with a IBM Notes user in New Delhi at 8:00 am Thursday morning New Delhi time.
To make it even more tricky it is summer, so Daylight savings is in effect. Which is observed in Los Angeles, but not in New Delhi.
In Los Angeles time Pacific Daylight Time, GMT -07:00, is used.
New Delhi, India Standard Time, GMT +05:30, is used.
In this case there is a time difference of 5:30 + 7:00 = 12:30 hours. So 8:00 am New Delhi becomes 8:00 am – 12:30 = 7:30 pm Wednesday evening.
The example assumes the client has the correct time zone setup on his system. And that the Notes client schedule is set up correctly in the Notes mail-file. And the time zone is set up correctly in the plan-jockey administrator.
Pricing
Interested in obtaining Lialis Plan Jockey for your Notes environment? Please contact us on sales@lialis.com.